Move over toxic tampons. Take a hike, sweaty pads. There's a new player in town and it looks like she's here to stay – 12 hours at a time. It seems women are going crazy for the menstrual cup, a reusable, bell-shaped silicone device inserted into the vagina to collect menstrual blood, and they're taking it to the web with countless YouTube videos, blog posts and tweets praising its benefits. So what's all this commotion about?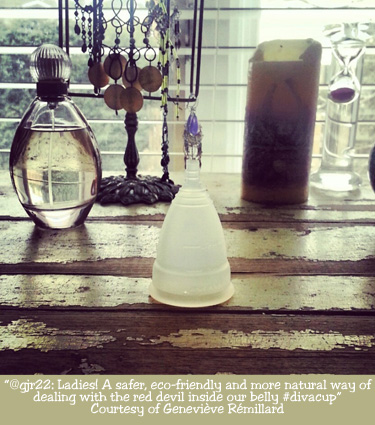 Throughout its surprisingly long history (early versions of the menstrual cup were patented as far back as in 1932!), the menstrual cup has not been a popular option for period care. Despite several attempts to launch the product in mass markets over the years, it was never able to compete with disposable tampons and sanitary pads. Although it is still a foreign concept to most women, the menstrual cup is slowly claiming its place in mainstream markets. It is no longer a mysterious apparatus only found in natural health stores; the product is now available in some major drugstores and can be easily bought online. An increasing selection of brands is also popping up worldwide: from Lunette, to Mooncup, Meluna, Yuuki, Fleurcup, Sckoon, Ruby, Femmecup and The DivaCup – to name but few.
Diva International Inc., the makers of The DivaCup, one of North America's most popular menstrual cup brands with over 1 million cups sold to date, have definitely noticed the new trend. For the past 10 years, DivaCup International's sales have been growing at double digit rates. "In the past ten years we have received great enthusiasm and acceptance around The DivaCup in both natural health and more recently, mainstream markets," says a spokesperson for The DivaCup.
| - We'd love to hear from you!
---
By Andrina Adams
Until recently, I suffered through heavy periods every month.
On days 2 & 3, I normally had to wear a tampon AND a maxi pad.  In addition to this, if I didn't change that lovely combo every 2 hours, I had the "pleasure" of a major clean-up and possible leakage.  — I'd tell you about my pads-only nights; but, I don't want to make you weep. 

Of course, everything I've mentioned so far made me dread, and sometimes skip, work / personal events – especially the ones that required long periods of sitting and / or frequent use of far-away public restrooms…that is, until I stumbled upon menstrual cups on Amazon.com.

MENSTRUAL CUPS – Where have you been all my life?
While checking things out on Amazon one lovely, lazy vacation day, something led me to the sanitary products page.  That's where I saw them for the first time…  I'm telling you, angels played harps and sang while a voice (in my head) said, "Behold…the DIVACUP and SOFTCUP."  LOL
| - We'd love to hear from you!
---
By Marcela De Vivo
When I first read Are You There God, It's Me Margaret by Judy Blume, I was still in my pre-teens—so the whole bra-wearing, period-having, growing up angst was something that I related to and wanted to know more about (except the angst part). I honestly believed that you could "increase your bust" with an odd rhyme and even odder exercise—and the fact that the girls were so desperate to get their period made me want mine too.
Boy, did they misrepresent the experience. When I finally got my period, it wasn't a misty-eyed entrance into womanhood with moderate spotting and a proud mother. No, mine was a hormonal nightmare complete with acne flare-ups, inexplicable rages and tears, and cramping that I wouldn't wish even on the mean girls who tormented me at school.
I didn't quite get that they were all PMS symptoms for a while, since I wasn't regular yet and hadn't figured out when my period was coming. As I got older, I started making the connection between the awful symptoms and the impending monthly menses.
Once I understood the association, I started trying any number of remedies to relieve my PMS—for my sake and the sake of those around me. What I found was that yoga and meditation did a lot to help alleviate those issues.
| - We'd love to hear from you!
---
This month we are celebrating the revolutionary products that are improving women's periods everywhere – cloth pads and menstrual cups!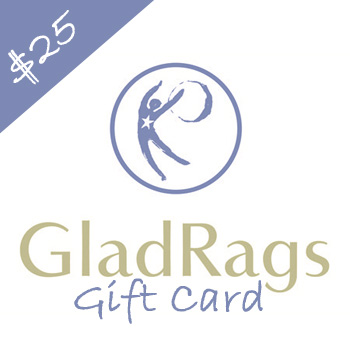 Have you been wondering what all the hype is about? Or maybe you're the one that is creating the hype in your circle of friends. Either way, we'd love to have you join us in our celebratory tweet chat (December 13th at 11am PST), "Revolutionizing Periods: Menstrual Cups & Cloth Pads."
Joining us will be special guests GladRags and DivaCup to share why these types of products are growing in popularity, and their benefits over conventional products. Plus, they'll be sticking around to answer any questions you may think of!

"But what about the giveaway?" you ask.
To help promote the tweet chat, encourage participation and raise awareness about the many options women have today to manage their periods, GladRags has generously donated a $25 GladRags.com Gift Card to giveaway to one lucky participant. This is a perfect opportunity to try them out, add to your collection or even give as a gift – after all, 'tis the season!
So what are you waiting for? Scroll on down and get your entries in!!
| - We'd love to hear from you!
---
As you may know, we love to offer giveaways at BePreparedPeriod.com.
We find it's a great way to introduce new, healthy options to women unfamiliar with organic and reusable products.
If you've subscribed to our giveaway alerts, you've probably noticed most of them are menstrual in nature, like the DivaCup Gift Pack we've got going on. (FYI, this would make for an awesome gift for yourself or your favorite gal pal – so make sure to check it out!)
BUT what if you'd like something a little extra this year,  or maybe you are running a little low on cash this holiday season? Well, our friends over at voiceBoks have invited us to share in offering you a great opportunity to win a Holiday Cash Bonus of $175 (imagine how many tampons, pads or menstrual cups that could buy!!)

Entering to win is SUPER SIMPLE, just visit voiceBoks's Holiday Cash Extravaganza page and you will find many ways in which you can enter (some of which are simply liking and following us on Facebook and Twitter). And a tip to improve your odds… the more points or entries you gain, the higher your chances are for winning. And one winner will take it all!!!

| - We'd love to hear from you!
---
So I recently started my period. My mom works nights so it was just my dad and I. So when I went to the bathroom I saw something red and I was shocked but new what to do. I just got a pad because I was prepared. I just put it on my underwear and called my mom. During this time I was really shaken up. I called my mom and told her everything she said when she got home we would talk. So I told her I didn't tell my dad. So my dad came in and saw that I was crying so I just immediately told him and he was understanding and hugged me and said if I need Advil or Motrin to just ask him. So I did have cramps and relaxed the next day.
By Kati
| - We'd love to hear from you!
---

Have you heard??? Menstrual cups are revolutionizing women's periods everywhere!!!
That is exactly why this month's tweet chat topic is "Revolutionizing Periods: Menstrual Cups & Cloth Pads." Not only will we be discussing why these products are changing women's periods for the better, but we'll also be giving away DivaCup Gift Packages to two lucky participants. Just in time for the holidays!
As our special guest this month, DivaCup has generously given us these awesome prize packs to giveaway to help promote participation during the chat. That said, we invite you to enter to win (details below) and join us Friday, December 13th at 11am PST for a fun event filled with great conversation.
"There's no such thing as "TMI" at #PeriodTalk!!" – Click to Tweet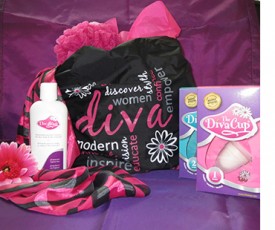 Two (not just one, but TWO!) lucky tweet chat participants will win a Diva Prize Pack which includes:
- The DivaCup (either Model 1 or Model 2)
- DivaWash
- Pink Loofah
- Diva Scarf
- and a Diva Eco Shopping Bag

Words from a DivaCup Fan:
"If anyone is reading this it doesn't matter who you are you MUST try this product! It's absolutely fantastic. When used or inserted properly you can't even feel it! You don't know it's there. I found it to actually shorten my period length because there is nothing else that may be stopping the flow! It's totally worth the money it really really is! You only need to buy it once." - Jennifer A.
| - We'd love to hear from you!
---
With the age of onset of puberty continuing to decline, many girls are starting this very confusing, hormonally charged phase of life extremely young. According to current research, 30% of girls will start puberty by the age of 8.
It is extremely important for parents to recognize these changes, even if they are subtle – and begin communicating regularly about puberty and menstruation. Even if they are not happening to YOUR daughter, there is a good chance they are happening to some of her elementary school classmates. The sooner you can begin the dialect, the easier the facts of life will be to understand for your daughter.
| - We'd love to hear from you!
---
Soo…I started my first period recently. I know many people hate their periods, but my mom helped me see it in a different way. Periods are a true blessing, even though uncomfortable. After all, you can't have babies without them! And it shows that you are a true woman. It also shows that you are responsible enough to keep yourself clean during your period. It shows that you are mature. So maybe they are uncomfortable and scary, but remember that periods are a blessing!
By Anon
Click Here, to share your first period story with us or check out PeriodTalk our new forum for ALL menstrual questions.
| - We'd love to hear from you!
---
I got my First Period in May of 2009 when I was 11, now I'm 15. I got up & got dressed, I remember I was wearing purple capris with sneakers & a white shirt, I also had my hair pulled back. I remember I had to pee so I went to the bathroom, when I looked at my underwear they had pink stuff on it. I remember getting a little freaked out even though my mom had told me about periods. I got out & was like, "mom we gotta get me pads." She was like, "pads? for what?" Then i said, "mom i have my period," she started to cry i mean CRY! I was like " -.- really mom really?" lol I stayed home from school that whole week cuz I go for a WEEK on my period.
Then my dad came home from work and she told him. My mom had told him in their bedroom, she came out and told me he was a little sad. He got sad cuz I'm the only daughter he has, I have 3 brothers. He knew that now I got my period I was already becoming a woman. Like most people say than pretty soon I'll graduate, then go to college, then have a family of my own. I mean I kinda like my period & I'm glad I got it at 11 cuz some girls get it at 15.
By Marie A.
Click Here, to share your first period story with us or check out PeriodTalk our new forum for ALL menstrual questions.
| - We'd love to hear from you!
---