Shopping cart
Now in your cart 0 items
Blog
A Better Way to Clean Cloth Pads
Finding healthier products for one's body and the environment is a growing trend. As more and more people better understand the effects that many traditional products have on their health and the environment better options are being sought after.
One specific type of product that has been increasingly popular is cloth menstrual pads, such as Lunapads. Lunapads and products alike are a great reusable menstrual option that allows women to save money (after the initial investment), be eco-friendly, all while choosing a healthy al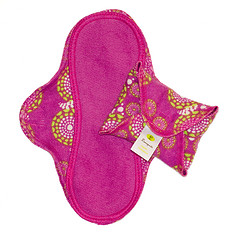 ternative to disposable pads and tampons.
Choosing this reusable option (or considering the change) leaves many with questions like, "How do I go about cleaning reusable cloth pads?" We realize this can be a big change for those making the switch from disposable feminine hygiene products.
While we are not familiar with every brand of cloth pads, we can tell you that Lunapads can be washed by hand or machine in any temperature with regular detergent and can be air or machine dried. That said, we have a question for you. Picture this…you are excited to try out your cute, new, organic cloth pads, you've gone through your cycle and it is now time to wash them. You put them in the wash and now what do you do? Do you add a chemical detergent? Doesn't that seem wrong? You've spent the extra money to put a healthier, organic fiber next to your skin and now you are going to wash them with what?? Detergent? Did you know that this once organic cloth pad will absorb the detergent and hold it next to your skin? If only there was a better option… (an option you AND your septic could LOVE)
Here's the exciting news…there is one!!! Read the rest of this entry »
Posted by The Be Prepared Period Team
Monday, November 28th, 2011
This post has 15 Comments
---
Finally….A Reusable Softcup!!
The moment we've all been waiting for is finally here!
Today, Softcup has officially announced the launch of their new REUSABLE Softcup. You may be wondering, "What is a reusable Softcup?"
Reusable Softcup is a durable, flexible, reusable cup that can be worn for up to 12 hours and reused throughout one menstrual cycle. Reusable Softcup has all the benefits of disposable Softcup—with the added advantage of just one cup per period.
"Why should you try it?"
Reusable Softcup is great for busy women, eco-minded women, or women who just don't want to have to think about changing a pad or a tampon every few hours. Reusable Softcup helps you reduce menstrual waste, since you can use and discard just one Softcup per period.
1 Softcup per period = less waste.
Use a single Softcup for your entire cycle.
Wear up to 12 hours at a time.
Wear during any activity – sports, swimming, sleeping, sex.
Eliminate menstrual odor
Have mess-free sex on your period.
Be good to your body – no link to TSS.
At a low cost of just $2.50 per cycle, why not?
Be the first to try it! Now available on www.BePreparedPeriod.com! Read the rest of this entry »
Posted by The Be Prepared Period Team
Wednesday, November 9th, 2011
This post has 2 Comments
---
Twitter Stream
Facebook
Do You Like This Site ?
Grab our Button for your Site!
Copyright © 2011 Be Prepared, All rights reserved, Powered by : Glowing Web