Shopping cart
Now in your cart 0 items
Blog
Fathers – How Menstruation Can Affect Your Relationship with Your Daughter
Believe it or not, as a father – you play a huge role in how comfortable your daughter is with her own femininity.  Girls who have a loving, supportive, compassionate, and understanding father have been proven in numerous studies to have more self-confidence and perform better in school (and life!)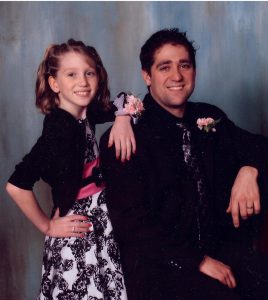 It's easy as a father to sit back and allow mom, or another female role model to handle the particulars of periods – considering those things 'woman's stuff!"  The problem is that if a girl in the midst of puberty sees her father avoiding the subject or throwing his hands over his ears every time someone mentions the word 'period,' the girl can often feel like her father is not accepting her transition to adulthood.  And this can be a problem.
Remember that this transitionary time in your daughter's life is confusing for HER too – and the last thing she needs is to feel unaccepted by those around her.
For young girls, who so often look up to their daddy's and have spent years being daddy's little girl – they often wonder how things will change when bras and pads enter the picture.  Your daughter may wonder many things.  For instance, 'Will my dad still see them the same way?'  'Will dad be uncomfortable hugging me when I am wearing a bra?'  'Will he be disappointed, embarrassed or start pulling away?'  "Will I still be daddy's little girl?' Read the rest of this entry »
Posted by The Be Prepared Period Team
Thursday, December 29th, 2011
This post has 11 Comments
---
Be Prepared 1st Period Kit Giveaway!!!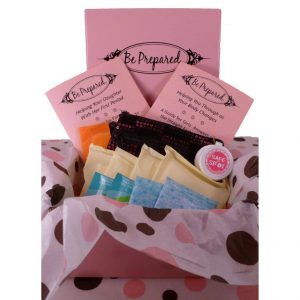 We are so excited for January's Tweet Chat, co-hosted with You ARE Loved that we are giving away a Be Prepared 1st Period Kit!  To help promote the chat and encourage as much participation as possible we will be giving away a kit to one lucky contestant.
The Be Prepared 1st Period Kit is the perfect kit to help parents and girls prepare for the changes ahead. No need to worry about fumbling your way through the sometimes awkward conversation of what to expect with your first period.  Don't dread this change, celebrate it! With this kit, you will Be Prepared! It includes all the supplies she will need to get her started and the information you need to answer her questions (and yours!)
*With this giveaway being designed to promote our upcoming TweetChat, Friday, January 13, 2012 the winner must be present to win. (Present, being defined by posting at least one #PeriodTalk tweet between 1:40 and 2:40pm Eastern on January 13th.)
This month's Topic: Preparing for Puberty and Periods – What Parents Need to Know
This month's chat provides you an opportunity to learn what you should know in order to help prepare your daughter for puberty, including starting her period. Did you know that 3 in 10 girls starts puberty by age 8 or that most girls today start menstruating as tweens not teens? Whether your daughter is 6 or 9 or 13 and no matter where she is on her pubertal journey, this chat is for you. Questions are welcome. For more on tween feminine hygiene, please read this article on TweenParent.com, written by You ARE Loved's Director of Education. "Click Here" for more details about the chat. To Enter the giveaway or Read the rest of this entry »
Posted by The Be Prepared Period Team
Wednesday, December 21st, 2011
This post has 15 Comments
---
The Birth of Be Prepared Period
A site about periods, you say? Is that really necessary? After all, isn't that what parents and sex education classes are for?
The truth is that nothing can be further from the truth.
In fact, for girls and their parents, no matter how loving and involved, 'growing up' can be a difficult, confusing albeit beautiful phase of life – that is often misunderstood and laced with silent shame. Especially when it comes to sexual development and periods.
So one intuitive and determined mother, finding herself in the midst of puberty with her own daughter decided to do something about it. She found it conflicting that there was nothing on the market that she could give to her daughter, to mark this special time in her life. So she created one, and she made a vow to go one-step further!
To also educate.
To make resources for parents and girls readily available and easily accessible, as they SHOULD BE. To ease the transition so it becomes one of empowerment rather than shame – of celebration rather than confusion.
And most importantly, to spread the word, so that ALL girls and ALL parents could benefit from the truth about menstruation and puberty, which starts with the fact that it is 100% normal and completely natural. (And these days, starting earlier than ever)
Branching Out – How Be Prepared Period Has Grown –
What started out as a homegrown business to provide girls with a special gift that they could be given when they started their periods has turned into a full throttle platform to raise period awareness and ensure that girls and parents readily find the information and resources that they need, when they need it. Read the rest of this entry »
Posted by The Be Prepared Period Team
Tuesday, December 13th, 2011
This post has 2 Comments
---
Twitter Stream
Facebook
Do You Like This Site ?
Grab our Button for your Site!
Copyright © 2011 Be Prepared, All rights reserved, Powered by : Glowing Web