Shopping cart
Now in your cart 0 items
Blog
Be Prepared 1st Period Kit Giveaway!!!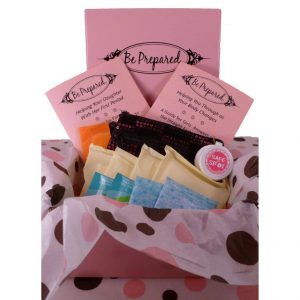 We are so excited for January's Tweet Chat, co-hosted with You ARE Loved that we are giving away a Be Prepared 1st Period Kit!  To help promote the chat and encourage as much participation as possible we will be giving away a kit to one lucky contestant.
The Be Prepared 1st Period Kit is the perfect kit to help parents and girls prepare for the changes ahead. No need to worry about fumbling your way through the sometimes awkward conversation of what to expect with your first period.  Don't dread this change, celebrate it! With this kit, you will Be Prepared! It includes all the supplies she will need to get her started and the information you need to answer her questions (and yours!)
*With this giveaway being designed to promote our upcoming TweetChat, Friday, January 13, 2012 the winner must be present to win. (Present, being defined by posting at least one #PeriodTalk tweet between 1:40 and 2:40pm Eastern on January 13th.)
This month's Topic: Preparing for Puberty and Periods – What Parents Need to Know
This month's chat provides you an opportunity to learn what you should know in order to help prepare your daughter for puberty, including starting her period. Did you know that 3 in 10 girls starts puberty by age 8 or that most girls today start menstruating as tweens not teens? Whether your daughter is 6 or 9 or 13 and no matter where she is on her pubertal journey, this chat is for you. Questions are welcome. For more on tween feminine hygiene, please read this article on TweenParent.com, written by You ARE Loved's Director of Education. "Click Here" for more details about the chat. To Enter the giveaway or
How to enter:
1. You must use the Rafflecopter widget below to enter this giveaway.
2. You may enter using any of the listed entry options in the Rafflecopter widget. You may choose one option or all options. Each option is worth 1-5 entries into the giveaway.
3. For each option you choose to enter with, click on "CLICK HERE", follow the instructions, then click on "I DID THIS" and fill out the required information.
4. The giveaway starts on December 21, 2011 and ends on January 13, 2012 at 2:30pm EST.
5. At the conclusion of the giveaway, we will verify all entries.
6. Once the verification process is complete, we will use the Rafflecopter widget to select the winner(s) and contact them.
7. The winner(s) will have 48 hours from our notification email to respond with their full name and mailing address. If we do not receive a response, you will forfeit your prize and another winner will be selected. Please be sure to check your spam filters!
For a quick, 46 second video tutorial on how to enter, "Click Here."
Posted by The Be Prepared Period Team
Wednesday, December 21st, 2011
This post has 15 Comments
---
Twitter Stream
Facebook
Do You Like This Site ?
Grab our Button for your Site!
Copyright © 2011 Be Prepared, All rights reserved, Powered by : Glowing Web