Shopping cart
Now in your cart 0 items
Blog
5 (count'em 5!) Lunette Cup Giveaways!!!
What is just as much fun as our monthly Tweet Chats?
Answer. Our GIVEAWAYS!!!

On April 13th, 2012 Be Prepared Period and You ARE Loved will come together to host a special Get to Know Your Menstrual Cycle event! We are proud to announce we have two special guests, Dr. Joan Moon of Women's Health Dynamics and Alison Sanchez of Feby.com joining us this month.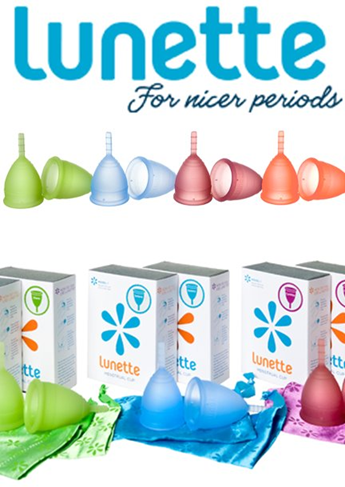 To help promote the event and encourage participation Lunette has generously donated 5 Lunette Cups for us to give away to 5 very lucky participants. (And an extra BONUS: You get to pick the size and color!)
Over the past 70 years, a woman's choice for internal menstrual care has pretty much been limited to tampons. Wouldn't you like something better, something . . . nicer?
Now there is an alternative that is healthier for our bodies, our environment and our pocketbook — the Lunette menstrual cup.
Made in Finland, the Lunette menstrual cup is an easy-to-use, safe, and clean alternative to pads and tampons. Using a Lunette is similar to using a tampon but requires less changing. Made of medical-grade silicone, a non-friendly environment for bacteria, menstrual cups are simply washed and reused. Not to mention, menstrual cups create zero waste. That's nice!
What one Lunette user has to say: "I must also tell you that the cup seems to have somehow taken away the majority of my cramps….it's a miracle! I've converted many onto the cup…."
For more information or to purchase your own Lunette Cup, "Click Here."
 Sorry this giveaway is over.
Want to stay updated on our giveaway opportunities? Sign up for our giveaway notifications and be notified the next time we are giving away more FREE stuff! (or check out our Win Free Product Page for current giveaways)
Posted by The Be Prepared Period Team
Thursday, March 8th, 2012
This post has 75 Comments
---
Twitter Stream
Facebook
Do You Like This Site ?
Grab our Button for your Site!
Copyright © 2011 Be Prepared, All rights reserved, Powered by : Glowing Web