Shopping cart
Now in your cart 0 items
Blog
Moldy Tampons
I bet when you think about the words Feminine Hygiene you don't think "Moldy Tampons."
Well, neither did Danielle over at Parr For The Course. But to her surprise, that is exactly what she found when opening a new box of Kotex Tampons!! We're not talking about an "emergency tampon" that has been buried in the bottom of your purse for who knows how long, this came "straight out of the box, in it's sealed little packaging."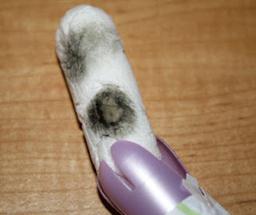 As a public service announcement we thought we should share this story. You ought to be aware of the things you may be potentially putting in your body. Not only are you at risk of TSS with conventional tampons, but now you may need to be on the look out for MOLD! (Judging by Kotex's comments this not an isolated incident.) So go ahead and pop over to Danielle's blog to read her story along with Kotex's reply.
As women, we have many "feminine hygiene" options. More options than most realize. We have the traditional products we are all familiar with "pads & tampons." But today, we are fortunate to have additional options like organic/natural tampons and pads (products free of plastic and bleach) from great companies like Natracare & Maxim Hygiene, as well as menstrual cups like Softcup, DivaCup & Lunette and cloth pads like Lunapads. There are lots of options, both disposable and reusable.
We challenge you to look into healthier products not only for your body, but also the environment. So before you say, "ewww…menstrual cups" or "ewww…cloth pads" or "ewww…tampons without applicators," just think about how gross it would be to accidentally insert a moldy tampon! EWWW!!!
We'd love to hear your initial response to this news. Please comment below and tell us how this information may or may not change your thoughts on feminine hygiene.
UPDATE from Kotex: 3/28/12
"For those of you concerned about Kotex tampons…
We totally understand your concerns about this issue, and we take it very seriously. In the Kotex representative's eagerness to get back to the concerned consumer's e-mail right away, she unfortunately sent her incorrect information about the issue.
Nothing is more important to us than consumer safety. Any discoloration or abnormality with our tampons is extremely rare, and we want to do a full investigation to determine the source and follow-up with our manufacturing facility.
If you have any questions or concerns at all, please contact Consumer Services by email at http://www.kotex.com/na/contact-us or call us at 1-800-789-4495."
UPDATE from Kotex:  3/30/12
"At Kotex quality and consumer safety is our priority. We are committed to, and are taking all necessary steps to get to the bottom of this; including hiring an independent testing facility to conduct a thorough investigation of the product in question. Any discoloration or abnormality with our tampons is extremely rare, and we believe this to be an isolated incident."
Posted by The Be Prepared Period Team
Wednesday, March 28th, 2012
This post has 31 Comments
---
Twitter Stream
Facebook
Do You Like This Site ?
Grab our Button for your Site!
Copyright © 2011 Be Prepared, All rights reserved, Powered by : Glowing Web