Shopping cart
Now in your cart 0 items
Blog
13 Reasons Women Want to Try Lunette
Last week we gave away 5 Lunette Cups with our friends at You ARE Loved.org. In conjunction with the giveaway we asked women, "What is your #1 reason for wanting to try Lunette?" These are a few of their answers:
1. "I have already tried the Lunette, and it is amazing!! I would LOVE the opportunity to win one to give to my best friend for Mother's Day!"
2. "I want to use Lunette because I want to use a reusable menstrual cup instead of pads and tampons."
3. "I want to explore ALL my options now that I am having green periods"
4. "I want to try Lunette because I am interested in seeing if it's a better fit for me (in terms of leaks) than the Diva Cup I've been using since the fall of 2010. Plus, they're available in pretty colors!"
5. "I've heard great things about the lunette and I'd love to give it a try because I hate disposable products"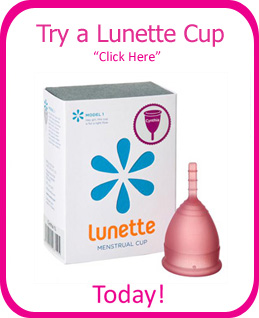 6. "i want to try one because i hate pads, and want to be greener with my periods. the amount of waste i create with pads is enormous because my periods are heavy and they last 7 days, meaning i have to go through about a million of them each period, versus just reusing a cup!"
7. "Lunette seems to be the best menstrual cup out there, according to what I hear word of mouth and online. I have done a little research and cups seem to be the healthiest, most eco-friendly and economical solution out there. I would love to get my hands on one of these!"
8. "I would like to try it cause I have been looking for eco-friendly stuff to protect the environment."
9. "I would love to try Lunette as I will be trying to decide which type to use once my cycle starts again (after this beautiful lil babe is done nursing full-time or whenever it starts). A menstrual cup seems like a wonderful option."
10. "Since I already own a menstrual cup that works well for me, I would give it to my roommate or my best friend, whom I've been trying to convince try cups for a few months, but so far they still haven't taken the plunge ! But I would be very tempted to try it myself, I like many things about its design : short body yet long stem, hand grip rings, good capacity, the small size is of medium softness, gorgeous colors, all very good points !"
11. "I want to save money. I tried cloth pads and those gross me out because you have to rinse them. I'm hoping this won't be as gross to rinse."
12. "I want to try it because I heard it's smaller, and that's what I need."
13. "I would love to try Lunette because I'm looking for more 'green' and safer alternatives for 'that time'."
Can you relate to any of these reasons? Or do you have your own unique reason? We'd love to hear it, please comment below.
To try Lunette for yourself, "Click Here."
Posted by The Be Prepared Period Team
Tuesday, April 17th, 2012
This post has 2 Comments
---
Twitter Stream
Facebook
Do You Like This Site ?
Grab our Button for your Site!
Copyright © 2011 Be Prepared, All rights reserved, Powered by : Glowing Web