Shopping cart
Now in your cart 0 items
Blog
A Woman's World: Discovering the Dynamic Menstrual Cycle CD Giveaway!
What is just as much fun as our monthly Tweet Chats?
Answer. Our GIVEAWAYS!!!

On April 13th, 2012 Be Prepared Period and You ARE Loved will come together to host a special Get to Know Your Menstrual Cycle event! We are proud to announce we have two special guests, Dr. Joan Moon of Women's Health Dynamics and Alison Sanchez of Feby.com joining us this month.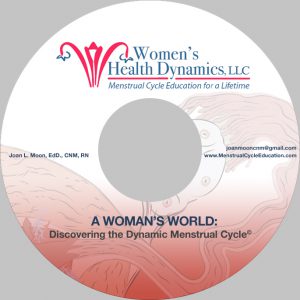 To help promote the event and encourage participation Dr. Joan Moon has generously donated 3 CDs titled "A Woman's World: Discovering the Dynamic Menstrual Cycle" for us to give away to 3 very lucky participants.
The CD includes:
• Illustrations, both computer graphic and photo, of the anatomy of the female reproductive system
• Animation showing the dynamic cyclic nature of the menstrual cycle in a woman as it goes from the brain to the ovaries to the endometrial lining of the uterus
• Animation of ovulation, nonfertilization and fertilization of the egg with subsequent impact on the endometrial lining of the uterus, fertilization of the egg resulting in cell division and implantation of the embryo in the endometrial lining
• Graphs with time series of the hormones as they increase and decrease throughout the cycle
• Narration of the script. The script is also at the side of each page enabling the viewer to read as well as hear the narration
• Puzzles – cross-word, word scramble, picture
"A Woman's World is an excellent resource for women of all ages. Dr. Moon has used her creativity to make the physiology of the female reproductive system tangible, logical and interactive."
~ Alison Moriarty Daley, MSN, APRN, PNP-BC Associate Professor, Yale University School of Nursing
"I just watched "Discovering the Dynamic Menstrual Cycle" with my teenage daughter. We both agreed that it was very informative and a terrific learning-tool. I enjoyed sharing this special moment with my daughter, and learning about the extraordinary potential of the female anatomy with her. Thank you for sharing your amazing CD with us."
~ Cindi Baum & daughter
"The CDs are awesome! The information is clearly and artistically presented with an opportunity for fun interactive learning. They should be a welcome addition to teachers, care providers and women of all ages but particularly to mothers who have difficulty explaining to their children the wonders of the magnificent but complex natural design of the female body."
~ Kitty Ernst, CNM , MPH, DSc (hon) Past President, American College of Nurse Midwives Founder of American Association of Birth Centers
For more information please visit Women's Health Dynamics.
*With this giveaway being designed to promote our upcoming TweetChat, Friday, April 13, 2012 the winner must be present to win. (Present, being defined by posting at least one #PeriodTalk tweet between 1:40 and 2:40pm Eastern on April 13th, 2012.)
Want to stay updated on our giveaway opportunities? Sign up for our giveaway notifications and be notified the next time we are giving away more FREE stuff!
"Click Here" for more details about the chat. To Enter the giveaway:
How to enter:
1. You must use the Rafflecopter widget below to enter this giveaway.
2. You may enter using any of the listed entry options in the Rafflecopter widget. You may choose one option or all options. Each option is worth 1-5 entries into the giveaway.
3. For each option you choose to enter with, click on "CLICK HERE", follow the instructions, then click on "I DID THIS" and fill out the required information.
4. The giveaway starts on March 8, 2012 and ends on April 13, 2012 at 2:30pm EST.
5. At the conclusion of the giveaway, we will verify all entries.
6. Once the verification process is complete, we will use the Rafflecopter widget to select the winner(s) and contact them.
7. The winner(s) will have 48 hours from our notification email to respond with their full name and mailing address. If we do not receive a response, you will forfeit your prize and another winner will be selected. Please be sure to check your spam filters!
For a quick, 46 second video tutorial on how to enter, "Click Here."
Posted by The Be Prepared Period Team
Monday, April 9th, 2012
This post has 7 Comments
---
Twitter Stream
Facebook
Do You Like This Site ?
Grab our Button for your Site!
Copyright © 2011 Be Prepared, All rights reserved, Powered by : Glowing Web