Shopping cart
Now in your cart 0 items
Blog
Sexy Period Panty Giveaway!
May brings so many wonderful things! May Day, Menstrual Monday, Mother's Day and… our Menstruation: New Products & Perspectives Tweet Chat!

So if you haven't already, mark your calendars for May 11th! Be Prepared Period and You ARE Loved will be coming together to host our monthly #PeriodTalk tweet chat event! This month we will feature special guests Julie Sygiel of Sexy Period and Tara Bruley, founder of Be Prepared Period as they discuss both new period products and the perspectives that come with trying these alternatives.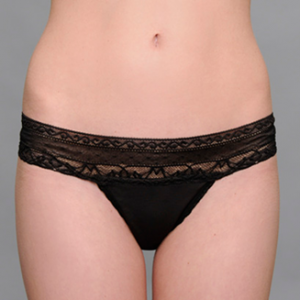 To help promote the event and encourage participation Sexy Period has generously donated a pair of Sexy Period Panties (winner may choose style & size) for us to give away to one very lucky participant.
Sexy Period undies are leak resistant and breathable. They're super comfy and you can wear them as a backup with your regular sanitary product routine. Functional fabric extends from bottom of front waistband to bottom of back waistband, so you're safe in every situation. Inner fabric is black to hide stains.
"Finally, underwear that I can wear during my period that I won't be embarrassed of when I change at the gym or worry that I'll ruin."  - Sara
"Sexy Period works like magic! The panties are oh-so comfortable and absorbent, they make me forget that it's that time of the month, and what girl wouldn't like that?" – Nina
For more information on Sexy Period products visit their site at SexyPeriod.com.
*With this giveaway being designed to promote our upcoming TweetChat, Friday, May 11, 2012 the winner must be present to win. (Present, being defined by posting at least one #PeriodTalk tweet between 1:40 and 2:40pm Eastern on May 11th, 2012.)
Want to stay up-to-date on our giveaway opportunities or upcoming tweet chats? Sign up for our giveaway notifications and be notified the next time we are giving away more FREE stuff! Receive Tweet Chat announcements/reminders by signing up, here.

"Click Here" for more details about the chat. To Enter the giveaway:
How to enter:
1. You must use the Rafflecopter widget below to enter this giveaway.
2. You may enter using any of the listed entry options in the Rafflecopter widget. You may choose one option or all options. Each option is worth 1-5 entries into the giveaway.
3. For each option you choose to enter with, click on "CLICK HERE", follow the instructions, then click on "I DID THIS" and fill out the required information.
4. The giveaway starts on April 13, 2012 and ends on May 11, 2012 at 2:30pm EST.
5. At the conclusion of the giveaway, we will verify all entries.
6. Once the verification process is complete, we will use the Rafflecopter widget to select the winner(s) and contact them.
7. The winner(s) will have 48 hours from our notification email to respond with their full name and mailing address. If we do not receive a response, you will forfeit your prize and another winner will be selected. Please be sure to check your spam filters!
For a quick, 46 second video tutorial on how to enter, "Click Here."
Posted by The Be Prepared Period Team
Sunday, April 15th, 2012
This post has 47 Comments
---
Twitter Stream
Facebook
Do You Like This Site ?
Grab our Button for your Site!
Copyright © 2011 Be Prepared, All rights reserved, Powered by : Glowing Web