Shopping cart
Now in your cart 0 items
Blog
TOTM Giveaways: Essential Planner for Girls & Women + TOTM T-Shirt
Our favorite "time of the month" happens to be the 2nd Friday of every month when we get to join forces with You ARE Loved to offer Twitter fans the opportunity to participate in our monthly #PeriodTalk tweet chats. August brings a special guest, Valarie Carey, Founder of TOTM (Time Of The Month), author and menstrual educator.
Not only has Valarie agreed to be our special guest, but she has generously given us two prize packs (Planner + T-Shirt) to giveaway to encourage participation.
Prize #1: TOTM! Time Of The Month! The Essential Planner for Girls and Women of All Ages (3rd Edition: October 2012 – December 2013) The book offers tips and advice for girls and women of all ages who are cycling.  With easy to document pages, one can measure and track the flow of her menstrual cycle.
"This journal is a MUST have for every menstruating age female. No matter young and beginning the journey or older about to end.
TOTM is more than simple a book to track your cycle, it is full of tips and advice to help you deal with the issues and stress, a woman deals with during her cycle. It's especially a great tool for the young girls to help her learn how to track and to track her symptoms for talking to her doc. Single fathers, i totally recommend that you grab this, read through it and give it to your daughters.
Even if you're not a single dad, you definitely should grab one of these for your daughter. Ladies far too many of us women really don't know and understand this part of our bodies. Don't continue to be one of the masses, and PLEASE don't let your your daughter be one." – A.W. Stutts
Prize #2: TOTM! Irritable T-Shirt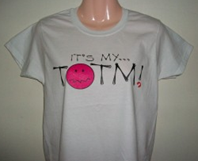 *With this giveaway being designed to promote our upcoming TweetChat, Friday, August 10, 2012 the winner must be present to win. (Present, being defined by posting at least one #PeriodTalk tweet between 1:40 and 2:40pm Eastern on August 10th, 2012.)
Want to stay updated on our giveaway opportunities? Sign up for our giveaway notifications and be notified the next time we are giving away more FREE stuff!
"Click Here" for more details about the chat. To Enter the giveaway:
How to enter:
1. You must use the Rafflecopter widget below to enter this giveaway.
2. You may enter using any of the listed entry options in the Rafflecopter widget. You may choose one option or all options. Each option is worth 1-5 entries into the giveaway.
3. For each option you choose to enter with, click on "CLICK HERE", follow the instructions, then click on "I DID THIS" and fill out the required information.
4. The giveaway starts on June 20, 2012 and ends on July 13, 2012 at 2:30pm EST.
5. At the conclusion of the giveaway, we will verify all entries.
6. Once the verification process is complete, we will use the Rafflecopter widget to select the winner(s) and contact them.
7. The winner(s) will have 48 hours from our notification email to respond with their full name and mailing address. If we do not receive a response, you will forfeit your prize and another winner will be selected. Please be sure to check your spam filters!
For a quick, 46 second video tutorial on how to enter, "Click Here."
Posted by The Be Prepared Period Team
Wednesday, July 25th, 2012
This post has 10 Comments
---
Twitter Stream
Facebook
Do You Like This Site ?
Grab our Button for your Site!
Copyright © 2011 Be Prepared, All rights reserved, Powered by : Glowing Web