Shopping cart
Now in your cart 0 items
Blog
Scensibles: A Personal Disposal Bag Giveaway!!
September 14th we'll be celebrating the Back to School season with our wonderful co-host You ARE Loved with a Back to School: Periods 101 Tweet Chat. And thanks to Ann Germanow, founder of Scensibles we have another great giveaway to offer.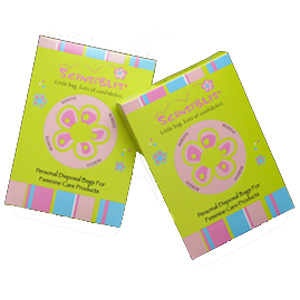 One concern many parents have is their daughter's feminine hygiene while at school. An issue that can be magnified when there is a lack of receptacles in girls bathrooms (especially at elementary school levels). This makes Scensibles a perfect giveaway for September's topic. To help promote and encourage participation in next month's chat we'll be giving away a box of Scensibles to two lucky winners.
What are Scensibles?
Scensibles are sanitary disposal bags specially designed for safe, easy and clean disposal of feminine care products—sanitary pads, tampons and applicators, disposable cups (like Softcups), personal care wipes, and panty liners. Scensibles are personal size oxo-biodegradable scented plastic bags with a contemporary pink on pink design, tie handle closure and built in antimicrobial agents to inhibit the growth of odor causing bacteria.
A few reasons you may want to try Scensibles:

"Sanitary"napkin receptacles in women's restrooms have the highest isolation of harmful germ/virus contamination and the risk of exposure to blood borne pathogens is overlooked
Tampons cause toilet clogs and result in expensive plumbing bills!
Reduce unpleasant odors
Lessen damage to sewer or septic systems and sewage treatment plants; and reduce pollution of our waterways, lakes and oceans.
For more information on Scensibles or to purchase yours today, click "here."
*With this giveaway being designed to promote our upcoming TweetChat, Friday, September 14, 2012 the winner must be present to win. (Present, being defined by posting at least one #PeriodTalk tweet between 1:40 and 2:40pm Eastern on September 14th, 2012.)
Want to stay updated on our giveaway opportunities? Sign up for our giveaway notifications and be notified the next time we are giving away more FREE stuff!
"Click Here" for more details about the chat. To Enter the giveaway:
How to enter:
1. You must use the Rafflecopter widget below to enter this giveaway.
2. You may enter using any of the listed entry options in the Rafflecopter widget. You may choose one option or all options. Each option is worth 1-5 entries into the giveaway.
3. For each option you choose to enter with, click on "CLICK HERE", follow the instructions, then click on "I DID THIS" and fill out the required information.
4. The giveaway starts on August 15, 2012 and ends on September 14, 2012 at 2:30pm EST.
5. At the conclusion of the giveaway, we will verify all entries.
6. Once the verification process is complete, we will use the Rafflecopter widget to select the winner(s) and contact them.
7. The winner(s) will have 48 hours from our notification email to respond with their full name and mailing address. If we do not receive a response, you will forfeit your prize and another winner will be selected. Please be sure to check your spam filters!
For a quick, 46 second video tutorial on how to enter, "Click Here."
Posted by The Be Prepared Period Team
Wednesday, August 15th, 2012
This post has 3 Comments
---
Twitter Stream
Facebook
Do You Like This Site ?
Grab our Button for your Site!
Copyright © 2011 Be Prepared, All rights reserved, Powered by : Glowing Web