Shopping cart
Now in your cart 0 items
Blog
What You Need to Know About the Disposal of Feminine Care Items
Public bathrooms… not always a great experience! I'm sure just saying those two words brings about a number of images. Public restrooms can be dirty, smelly and just plain gross to use for several reasons (more reasons than I can list here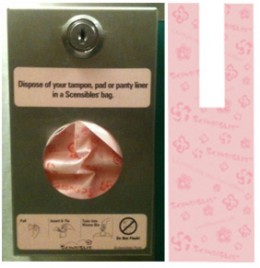 today). So, after visiting a Washington State Ferry Terminal restroom and being pleasantly surprised to find a new way to help keep bathrooms sanitary I had to share.
One of the "ewww" factors for public restrooms can be the improper disposal of feminine care items. Sometimes they are thrown on the floor; sometimes they are not wrapped up before depositing in the receptacle (if there is one) and sometimes the receptacle itself is soiled from previous use making it unsanitary to touch. These issues made me all the more intrigued to find the ferry system doing something different. They had installed a dispenser providing each user their very own sanitary disposal bag. Simply grab a bag, insert your used item (tampon, pad, panty liner, menstrual cup, etc.), tie and toss in the trash. No more touching dirty receptacles!
Realizing how convenient these would be to have on hand for those times a receptacle is not provided (like many elementary school restrooms) or instances where the facilities are too dirty to use, I contacted Ann Germanow (founder of this great product called Scensibles) to discuss the possibility of us carrying them at Be Prepared Period.
Just a short time later we received our first shipment. So, with much excitement we can officially announce that consumer packs can now be found in our store! Just click on "Scensibles" for a direct link.
With Ann's years of experience in this area we asked her to share some tips on the proper disposal of feminine care items:
"Disposing of feminine care items. Who wants to talk about that? It may be gross but it's an important topic that deserves special attention; especially for moms who are passing on their wisdom about menstruation to their daughters.
Some of the anxiety and embarrassment about having a period can be eased by being prepared and knowing the proper disposal method in a public restroom, at school, at a friend's home, at the mall, and in your own bathroom. Since the average woman uses 12,000 disposable feminine care products during her lifetime, it is sensible to follow responsible practices.
Here are some helpful tips:
NEVER flush sanitary products (including tampons and applicators) down the toilet.  Though toilets are a convenient and a quick way to get rid of a used pad or tampon, these products are made to absorb and can grow to 10x their size. They do not disperse, disintegrate or decompose when flushed down the toilet. Some manufacturers label tampons as flushable—the cardboard applicator too- but they clog toilets and septic systems, and contribute to pipe blockages. All of this can lead to very expensive plumbing repairs and time-consuming dirty cleanup. Plus untreated wastes, such as plastic tampon applicators, can end up polluting our lakes, rivers and oceans.
Always wrap up soiled feminine care products…do not just drop them in a waste receptacle. If you do not have a disposal bag to conceal the product, then use lots of toilet paper to completely cover the pad or tampon.
There is a risk of contact with potentially harmful blood borne pathogens, which can be present in menstrual blood, in public restroom stall waste receptacles. After wrapping the soiled product, use a tissue as a barrier to open the lid, and place the pad or tampon inside the lined receptacle. If you do not want to touch the stall receptacle, then wrap the product or conceal in a disposal bag to carry it out of the stall, and toss in the washroom trash can.
Used sanitary items should never be left lying on the floor, even if there is not a disposal unit in the stall of a public restroom.  Wrap it up and toss in the nearest trashcan.
Remember no one else should have to view, smell or handle your discarded products and that includes the janitorial staff in public-use restrooms. It is unsanitary as well as offensive.
Discard wrapped sanitary pads and tampons in a trash can that is out of reach of pets and small children.

Immediately wash your hands after discarding sanitary products and using the bathroom."
As a special offer to all Be Prepared Period and #PeriodTalk fans Ann would like to offer a free Amenity Pack for coming by to "like" her Facebook page at www.Facebook.com/ScensibleBags.
For more information about Scensibles (including the biodegradable additive that enables them to degrade in composting and sanitary landfills) please visit them at www.ScensibleSource.com.
Learn how to have a Better Period!
Check out our Info on Periods & Puberty page for more helpful information OR stop by our new PeriodTalk forum to get answers to the questions you've been wondering about.

Posted by The Be Prepared Period Team
Thursday, August 30th, 2012
This post has 1 Comment
---
Twitter Stream
Facebook
Do You Like This Site ?
Grab our Button for your Site!
Copyright © 2011 Be Prepared, All rights reserved, Powered by : Glowing Web