Shopping cart
Now in your cart 0 items
Blog
PeriodTalk Launches as One of the Only Online Educational Communities for Women, Developing Girls and their Parents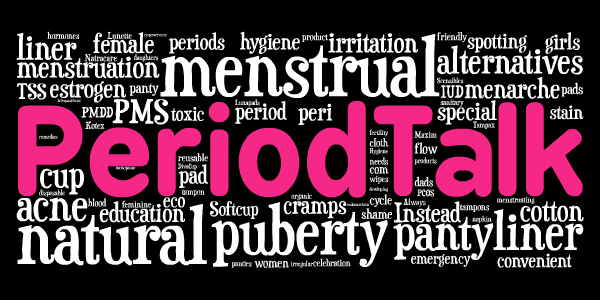 FOR IMMEDIATE RELEASE
SEATTLE— BePreparedPeriod.com has launched what may be the only online community for women of all ages, developing girls and their parents, a safe place for questions and answers about menstruation, feminine hygiene, the female body and more.
PeriodTalk is free and open to anyone to ask and answer questions anonymously. BePreparedPeriod.com founder Tara Bruley, a Seattle-area mom, said PeriodTalk is an accepting place for questions that women, parents, girls, "tweens" and teens may be uncomfortable asking about menstruation and physical development elsewhere. Other members of the community can offer their own insight, and PeriodTalk experts may also chime in with guidance and knowledge.
"An important aspect of PeriodTalk is to be an accepting community to help parents and teens navigate the sometimes tricky path of development," Bruley said. "There is a tremendous need for resources like this, especially because the average age of onset puberty for girls continues to decrease, while health education in schools is vanishing or occurring too late."
She said that more than one in seven girls start puberty by age seven. By age eight, more than one in four girls are already entering puberty.
But Bruley stressed that PeriodTalk is for all women in any stage of the "cycle," and topics including menopause and hormonal changes with age are welcome for discussion.
Dinah Farmer is a Brea, Calif. woman who said she has been looking for a place like PeriodTalk to ask questions about menstruation "without embarrassment."
"I appreciate that someone has finally come up with something like this," Farmer said. "I've never come across anything like it. For young girls who are just learning about their periods to adult women who are experienced and wise to help out others, I think it's a great community."
Suzan Hutchinson of Nashville, Tennessee said that PeriodTalk "gives permission" for women of all ages to speak openly about their experiences, and to learn from others.
"PeriodTalk is long overdue," she said. "Moms who put off having 'that talk' with their girls have a wonderful resource and terrific support. And women who find their menstrual issues embarrassing and feel they must endure alone can now obtain the answers they need and become empowered to move beyond embarrassment and into embracing their periods."
About Be Prepared Period
BePreparedPeriod.com is a web-based business that offers convenient "period kits" and a wide variety of organic, eco-friendly and traditional feminine products for women of all ages. Seattle-area mom Tara Bruley founded the business when she couldn't find appropriate, helpful resources for her tween daughter. Her research also revealed that many women are seeking more convenient and discreet ways to purchase feminine products, which is why Be Prepared Period includes a subscription-based service for home delivery.
For more information, visit www.bepreparedperiod.com, www.facebook.com/bepreparedperiod and follow on Twitter @bpreparedperiod.
Posted by The Be Prepared Period Team
Tuesday, September 25th, 2012
This post has No Comments
---
Twitter Stream
Facebook
Do You Like This Site ?
Grab our Button for your Site!
Copyright © 2011 Be Prepared, All rights reserved, Powered by : Glowing Web