Shopping cart
Now in your cart 0 items
Blog
Menstrual Journal Giveaway!
November 9th will not only bring about another fun tweet chat, but also another great giveaway! We are thrilled to have Jessica Marie & Suzan Hutchinson joining us as specials guests as we discuss, Menstrual Understanding and Creativity.
To help promote the chat and encourage participation, Jessica Marie, founder & artist at Vulva Love Lovely has generously donated not 1 but 3 menstrual journals to give away during the chat. Be sure to check out her unique artwork at VulvaLoveLovely.com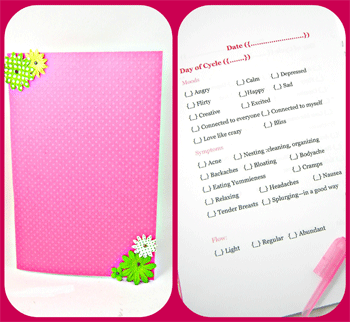 Why a menstrual journal?
"Tracking your period is a pretty important habit to pick up. It helps you establish a base-line for the usual number of days in your cycle, symptoms, and so on. Drastic changes in these can mean a bad interaction with new meds or something much more.
But for the most park Period Trackers totally suck. Why?
Because they focus on one thing and one thing alone: tracking negative symptoms of your period.
And yes, there is something other than negative symptoms. Do a scholarly search of medical journals and with some serious digging you'll find something astounding: positive symptoms.
Of course you've never noticed them! You were never looking for them. The Panty Party! Period Tracker forces you to ask the question, "was I feeling particularly calm today, maybe a little devious and flirty?" And all of the sudden you will find that there are in fact positive symptoms and you do in fact experience them."
*With this giveaway being designed to promote our upcoming TweetChat, Friday, November 9, 2012 the winners must be present to win. (Present, being defined by posting at least one #PeriodTalk tweet between 1:40 and 2:40pm Eastern on November 9, 2012.)
Sorry this giveaway is over.
Want to stay updated on our giveaway opportunities? Sign up for our giveaway notifications and be notified the next time we are giving away more FREE stuff! (or check out our Win Free Product Page for current giveaways)
Posted by The Be Prepared Period Team
Tuesday, October 30th, 2012
This post has 6 Comments
---
Twitter Stream
Facebook
Do You Like This Site ?
Grab our Button for your Site!
Copyright © 2011 Be Prepared, All rights reserved, Powered by : Glowing Web