Shopping cart
Now in your cart 0 items
Blog
Tomorrow is Girlfest 2012!
Girlfest is tomorrow and we couldn't be more excited!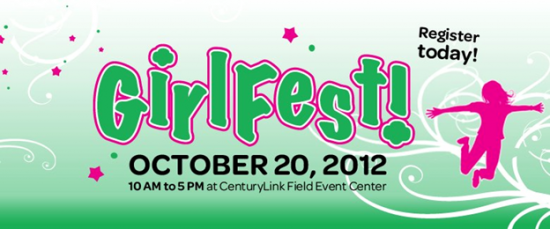 Last year we had the opportunity to participate in GirlFest, a day-long celebration for EVERY girl (and their families) that celebrates all the cool things about being a girl! It was such an amazing experience we couldn't miss the opportunity to do it again. There are hundreds of exhibits with information and opportunities to fit every girl's interests. Rock climbing, painting, dancing, music and even a few surprises can be expected at this year's event. It's a day full of fun!
Want to learn how you can join in on the fun? Here's the DEETS!
What: GirlFest 2012
When: October 20, 2012 – 10am to 5pm
Where: CenturyLink Field Event Center – Seattle, WA  – Make sure to stop by and see us (booth #622) for games, prizes, samples and more!
Why: Have you ever thought, "I sure wish there was one whole day where I could learn more about what I like and who I am"? If you're a girl (or know one!) and you live in Washington, then you'll be pleased as punch to know that day exists!
How: Tickets can be purchased online (and printed at home) at http://bit.ly/NROZwU or you can purchase them at the door. Tickets are $15 per person (4 and under FREE).
Hope to see you there!!!
Posted by The Be Prepared Period Team
Friday, October 19th, 2012
This post has No Comments
---
Twitter Stream
Facebook
Do You Like This Site ?
Grab our Button for your Site!
Copyright © 2011 Be Prepared, All rights reserved, Powered by : Glowing Web