Shopping cart
Now in your cart 0 items
Blog
Private Fix Your Period Coaching Session Giveaway!
We are celebrating the month of "love" on February 8 with the tweet chat topic, Learning to Love Yourself & Your Period.
Joining us as special guests will be women's holistic health coach and fix your period specialist Nicole Jardim and body confidence coach Alison Leipzig. We couldn't ask for two more lovely, better suited ladies to guide us to a deeper inner love.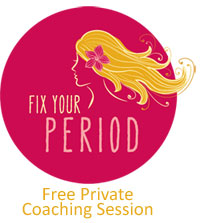 To help promote the chat and encourage participation Nicole has generously given us a single, private Fix Your Period coaching session (a value of $125) to give away to one lucky participant. The Fix Your Period Program specializes in helping women with a variety of menstrual concerns, including:
Irregular periods
Painful periods
PMS/PMDD
PCOS and more

What can you expect in a Fix Your Period Private Single Session?
The Fix Your Period Private Single Sessions are 75-minute coaching sessions designed for busy women who can't commit to longer programs. This is perfect for women who are exhausted by the physical and emotional discomfort caused by out-of-control ovaries and ready to start taking steps to put a stop to it.
Nicole will create a clear plan of action for your hormonal and overall health and you will gain clarity around your concerns. Each single session is completely customized to your specific needs – and will help you understand exactly what is going on in your body and how you can take positive steps to see the change you desire.
"I have worked on these same issues with more health professionals than I can count, and Nicole has by far been the most understanding, kind, and proactive of them all. With her help, my period regularized completely within a month. I absolutely recommend her!" – Julia F.

For more information or to learn more about the new Fix Your Period Lite (4-week) Program starting January 30th, "Click Here."
*With this giveaway being designed to promote our upcoming TweetChat, Friday, February 8, 2013 the winner must be present to win. (Present, being defined by posting at least one #PeriodTalk tweet between 1:40 and 2:40pm Eastern on February 8, 2013.)
Want to stay up-to-date on our giveaway opportunities or upcoming tweet chats? Sign up for our giveaway notifications and be notified the next time we are giving away more FREE stuff! Receive Tweet Chat announcements/reminders by signing up, here.
"Click Here" for more details about the chat. To Enter the giveaway:
How to enter:
1. You must use the giveaway widget below to enter this giveaway.
2. You may enter using any of the listed entry options in the giveaway widget. You may choose one option or all options. Each option is worth 1-5 entries into the giveaway.
3. For each option you choose follow the instructions, paste the URL address (if required), click on "Submit Entry."
4. The giveaway starts on January 12, 2013 and ends on February 8, 2013.
5. At the conclusion of the giveaway, we will verify all entries.
6. Once the verification process is complete, we will use the giveaway widget to select the winner(s) and contact them.
7. The winner(s) will have 48 hours from our notification email to respond with their full name and mailing address. If we do not receive a response, you will forfeit your prize and another winner will be selected. Please be sure to check your spam filters!
.
Posted by The Be Prepared Period Team
Saturday, January 12th, 2013
This post has No Comments
---
Twitter Stream
Facebook
Do You Like This Site ?
Grab our Button for your Site!
Copyright © 2011 Be Prepared, All rights reserved, Powered by : Glowing Web