Shopping cart
Now in your cart 0 items
Blog
Celebrate Earth Day
Learn why you should celebrate Earth Day with these startling facts. But don't stop there, join us for a fun and interactive online event tomorrow, Monday, April 22nd at 12pm PST / 3pm ET. (Can't make it no worries! Register and we'll send you the replay!
We're co-hosting this event with the lovely, Nicole Jardim, women's health coach at The Healthy Elements to help you learn to have a "greener," healthier life. Oh…and we'll be giving away some great, "green" products from Maxim Hygiene. Make sure to enter the giveaway below the video!
Maxim Hygiene Giveaway:
One lucky winner will receive 4 Maxim Hygiene products, winner's choice (selection of products can be found, here). Just enter to win below. We'll be announcing the winner during our special Earth Day webinar, so make sure you register for the event at http://ow.ly/k55Ha!
How to enter:
1. You must use the giveaway widget above to enter this giveaway.
2. You may enter using any of the listed entry options in the giveaway widget. You may choose one option or all options. Each option is worth 1-5 entries into the giveaway.
3. For each option you choose follow the instructions, paste the URL address (if required), click on "Submit Entry."
4. The giveaway starts on April 21, 2013 and ends on April 22, 2013.
5. At the conclusion of the giveaway, we will verify all entries.
6. Once the verification process is complete, we will use the giveaway widget to select the winner(s) and contact them.
7. The winner(s) will have 48 hours from our notification email to respond with their full name and mailing address. If we do not receive a response, you will forfeit your prize and another winner will be selected. Please be sure to check your spam filters!
Posted by The Be Prepared Period Team
Sunday, April 21st, 2013
This post has 1 Comment
---
Earth Day Event: 60 Minutes to a "Green" Period (Free Webinar)
Join us and Women's Health Coach, Nicole Jardim of The Healthy Elements, for this exclusive Earth Day celebration!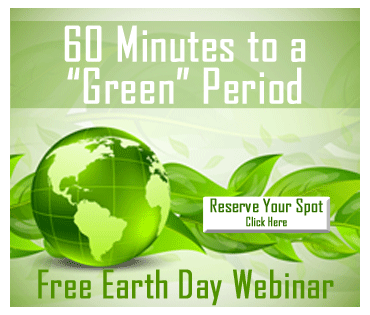 What is Earth Day? Earth Day is an annual day on which events (like this one) are held worldwide to demonstrate support for environmental protection.
Why should you be concerned with environmental protection? To name a few there is: our children's future, increased waste/pollution, and global warming.
But one of the best reasons is the direct effect on our health. Our bodies come into contact with chemicals and toxins daily, but do you know how they are affecting:
OUR lives?
OUR environment?
OUR periods?
Well, that's exactly what will be covered in this free 60 Minutes to a "Green" Period Webinar on April 22nd.
You're going to learn:
How chemicals in the environment (food & beauty products) are affecting women's health
The harmful effects of hormones in our food
How to reduce chemical exposure

You will also learn:
The effects traditional menstrual products are having on the environment and your health
Solutions to many menstrual product complaints such as: irritation, vaginal dryness, TSS concerns
Our favorite eco-friendly, body-friendly, period-friendly products that will greatly improve your "monthly" experience
And more!!
You DO NOT want to miss this one! Share this with your girlfriends too! We'll be partying on Monday April 22nd, 2013 at 12am PST / 3pm EST!
Even if you can't make it, sign up anyway and we'll send you the recording the next day!!

Posted by The Be Prepared Period Team
Tuesday, April 2nd, 2013
This post has No Comments
---
Hormonal Household – Puberty and Menopause Colliding
The similarities between puberty and menopause are vast. Think about it. Teens who are reaching puberty deal with acne, fluctuating hormones, body shape changes, irregular menses, growing pains and fatigue. Similarly, women going through peri-menopause or menopause are sometimes afflicted with mood swings, joint aches, the inability to concentrate, skin eruptions and mind-numbing exhaustion.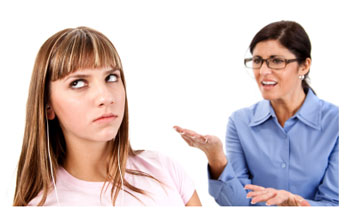 As women wait longer to have children, their menopause is more often coinciding with the onset of puberty in their children. The question, then becomes who just slammed the door and began sobbing? was it mother or daughter?
Coinciding hormonal transitions can result in tiresome bickering and cause extra strain on the entire family. While it's difficult to achieve complete serenity in a house where hormones are colliding, there are measures that can be taken by both mother and daughter to ease tension. The following are a good place to start:
Communication: Communication can break down if you let it. Talking about ways to be respectful to each other can really help you get to know each other's likes, dislikes and boundaries. Remember, no one benefits from a lack of communication.
Self-Awareness: Take the time to reflect on your emotions, reactions and behaviors. What are your triggers and how do you react to them? Are you overwhelmed by negative thoughts? Do you fly off the handle far too easily? It can be helpful to write down your feelings in a journal to achieve some clarity and feel empathy. Remember, everyone is dealing with their own personal challenges. Keeping that in mind can be quite liberating. Read the rest of this entry »
Posted by The Be Prepared Period Team
Thursday, December 27th, 2012
This post has No Comments
---
Puberty and Your Special Needs Daughter
By Gina Badalaty


6 Keys to Help You Teach Your Special Needs Daughter about Puberty
One of the more challenging aspects of raising a daughter with special needs is teaching her about puberty.  This year my 9 year old, Amelia, started showing the earliest signs of puberty.  I panicked, but after I calmed down, I came up with a practical plan on how I would teach her.  In developing my plan, I discovered six keys that can help you take the right approach to teaching your daughter about puberty.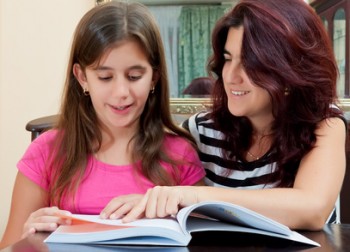 1.  Communication.
If your child has a speech disability, or is unable to understand you, you must find another way to communicate what puberty is all about.  This can entail a variety of methods.  A good book can help, or you may need to find a picture exchange system (PECS) or social story based specifically on puberty.  If not, look around for good images and create your own PECS or social story tailored to your child's needs.  We use the American Girl book, "The Care and Keeping of You," which Amelia likes very much.  (Note: it is very graphic.)
2.  Perspective.
Every child is different, so in order to select the approach that works best for your child, you must first view everything through her perspective.  I thought about Amelia's communication skills and deficits, her understanding of her body and science, and her relationships with other people, and created a relaxed and informative plan that I thought would speak directly to her, through books, pictures, and demonstration but without a rigid learning structure since this suits her personality best.
Posted by The Be Prepared Period Team
Tuesday, October 30th, 2012
This post has 1 Comment
---
PeriodTalk Launches as One of the Only Online Educational Communities for Women, Developing Girls and their Parents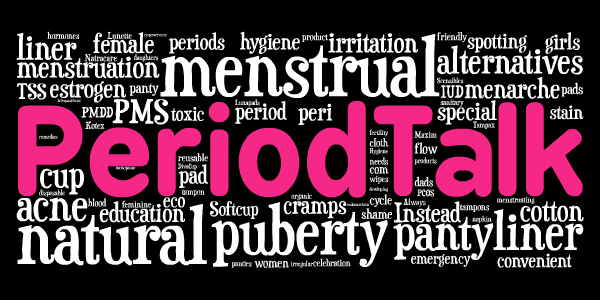 FOR IMMEDIATE RELEASE
SEATTLE— BePreparedPeriod.com has launched what may be the only online community for women of all ages, developing girls and their parents, a safe place for questions and answers about menstruation, feminine hygiene, the female body and more.
PeriodTalk is free and open to anyone to ask and answer questions anonymously. BePreparedPeriod.com founder Tara Bruley, a Seattle-area mom, said PeriodTalk is an accepting place for questions that women, parents, girls, "tweens" and teens may be uncomfortable asking about menstruation and physical development elsewhere. Other members of the community can offer their own insight, and PeriodTalk experts may also chime in with guidance and knowledge. Read the rest of this entry »
Posted by The Be Prepared Period Team
Tuesday, September 25th, 2012
This post has No Comments
---
Why Haven't I Started My Period Yet and Hello…Where are My Boobs?
It can be difficult to feel like you are one of the only girls in your grade that hasn't started her period or hasn't seemed to 'blossom' yet.  If you are what might be called a 'late bloomer' (I know, awkward term) it is normal to feel anxiety and worry that you are different, or that something is wrong with you!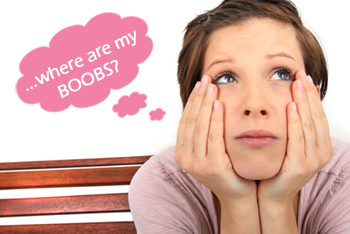 But the best thing to do is put your worries aside – and realize that when it comes to puberty, there is no such thing as 'normal!'  (Heck, you might even consider yourself lucky.)
Some girls start menstruating at the age of 8 or 9.  Others may not start their periods until they are 15 or even 16.  Some factors that can delay your first period are EXTREME exercise (meaning several times a week for several hours per day) and a diet that is lacking in vitamins and minerals.
If you are eager to start, you should know that most pediatricians will not likely do anything to help you until you are over 16. As long as you have started to develop pubic hair by the age of 13-14, you really should not stress yourself out with worry. Read the rest of this entry »
Posted by The Be Prepared Period Team
Wednesday, September 12th, 2012
This post has No Comments
---
What You Need to Know About the Disposal of Feminine Care Items
Public bathrooms… not always a great experience! I'm sure just saying those two words brings about a number of images. Public restrooms can be dirty, smelly and just plain gross to use for several reasons (more reasons than I can list here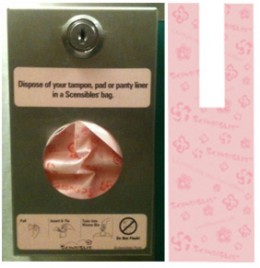 today). So, after visiting a Washington State Ferry Terminal restroom and being pleasantly surprised to find a new way to help keep bathrooms sanitary I had to share.
One of the "ewww" factors for public restrooms can be the improper disposal of feminine care items. Sometimes they are thrown on the floor; sometimes they are not wrapped up before depositing in the receptacle (if there is one) and sometimes the receptacle itself is soiled from previous use making it unsanitary to touch. These issues made me all the more intrigued to find the ferry system doing something different. They had installed a dispenser providing each user their very own sanitary disposal bag. Simply grab a bag, insert your used item (tampon, pad, panty liner, menstrual cup, etc.), tie and toss in the trash. No more touching dirty receptacles!
Realizing how convenient these would be to have on hand for those times a receptacle is not provided (like many elementary school restrooms) or instances where the facilities are too dirty to use, I contacted Ann Germanow (founder of this great product called Scensibles) to discuss the possibility of us carrying them at Be Prepared Period.
Just a short time later we received our first shipment. So, with much excitement we can officially announce that consumer packs can now be found in our store! Just click on "Scensibles" for a direct link.
With Ann's years of experience in this area we asked her to share some tips on the proper disposal of feminine care items: Read the rest of this entry »
Posted by The Be Prepared Period Team
Thursday, August 30th, 2012
This post has 1 Comment
---
Fat – Why You Need It!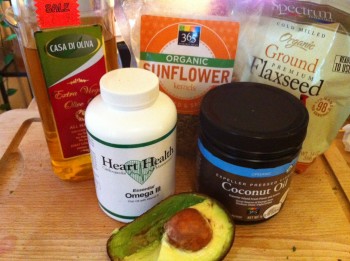 When I was younger I tried a different diet almost every week.  No surprise really, I was a teenager in the 90′s – the decade of low-fat/no-fat foods.  Remember Snackwells? Yeah, I was all over those things!  When I was about 15 I read that one should not consume more than 25 grams of fat a day, and just like that, fat became the enemy to be avoided at all costs!  For years I would constantly aim for as little fat as possible, always trying to stay as far under 25 grams as I could.
Fast forward to my early 20′s. I started to develop some MAJOR health issues that I could not figure out!  I was constantly sick, had achy joints, my digestion had gone from bad to worse and my menstrual health was a disaster. I went to countless doctors but all the tests came back normal. According to the docs I was fine. However, I was not feeling fine. It's not like I was lying in a hospital bed but I felt unhealthy even though I kept being told that I was okay. In addition to my major issues, my skin and eyes were dry and my hair and nails were a brittle mess. No matter how much water I drank I still felt dehydrated and it seemed that the food I was eating wasn't being absorbed.
Let's just say that this period in my life served as my wake-up call. Since that time I've cleaned up my diet and lifestyle significantly. I kicked the processed junk-food habit and starting eating a LOT more veggies and whole grains. But fat?  Sure I'd cook with olive oil and eat avocados once in awhile but that was the extent of it.
Two and a half years ago I was introduced to Sally Fallon (author of Nourishing Traditions and founder of the Weston A. Price foundation) through The Institute for Integrative Nutrition. Her presentation totally changed my perspective on fat. Read the rest of this entry »
Posted by The Be Prepared Period Team
Monday, August 6th, 2012
This post has 2 Comments
---
My Top 3 Foods to Beat PMS Symptoms!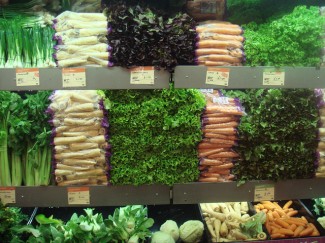 I used to be that girl who dreaded my period AND the week before my period. It would begin with the ridiculous sugar cravings (yes the kind where eating a whole chocolate cake would be just fine), then the bloating would start (probably because of the whole chocolate cake), and it would culminate in the worst cramps ever (think the kind of cramps that make you throw up and want to pass out). And then I'd get my period! That was my life for many years and I felt like I had no control over my body or what was happening to it every month. Approximately 75% of women struggle with similar issues every single month so I'm sure you can relate.
Eventually I figured out that I do have control – I have control over the food that I eat and how I live my life. Who knew!? I have learned over the years that every bite you take counts when it comes to how your body functions and how you want to feel physically and emotionally.  I have also learned that the main cause of PMS is an underlying hormonal imbalance in which your estrogen levels increase while your progesterone levels decrease. This is known as estrogen dominance.
So with that said, here are my top three foods for combatting those dreaded PMS symptoms.
Read the rest of this entry »
Posted by The Be Prepared Period Team
Thursday, July 26th, 2012
This post has 2 Comments
---
Swimming During My Period?!?!
Swimsuit Season
Swimsuit season has officially arrived!  If your summer is anything like mine, you will be in the water a lot this summer. And, more than once you may find the fun in the water is planned on a day when you are menstruating.
Stressful Situations
When it comes to swimming or even just being in a swimsuit during your period, many girls and women worry.  We worry about so many different things, including: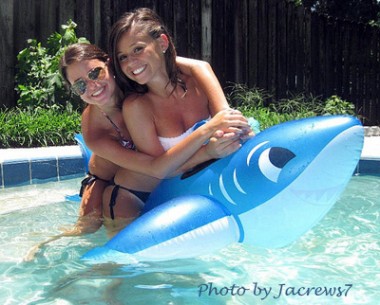 - How can I make sure no one knows I am menstruating?
- What swimsuit should I wear so I don't feel so awkward?
- What if I have a wardrobe malfunction and people see my tampon string?
- Where is the closest bathroom and how can I escape there without being noticed?
- Who do I really want to share this part of my life with?
If you are a tween or a teen this is especially challenging.  Everyone has expectations of what you should be doing.  People know you love the water, but you may not want everyone to know when you are on your period (much less what feminine hygiene products you use or what products you are not comfy even trying).
Common Myths
It is amazing that even though half the world's population menstruates for part of their lives, many girls and women don't really know what is or isn't a myth.  For example:
- Myth #1: You should avoid swimming during your period (or at least skip water activities if your flow is heavy). Read the rest of this entry »
Posted by The Be Prepared Period Team
Wednesday, June 6th, 2012
This post has 1 Comment
---
Twitter Stream
Facebook
Do You Like This Site ?
Grab our Button for your Site!
Copyright © 2011 Be Prepared, All rights reserved, Powered by : Glowing Web