Shopping cart
Now in your cart 0 items
Blog
Almost Wordless Wednesday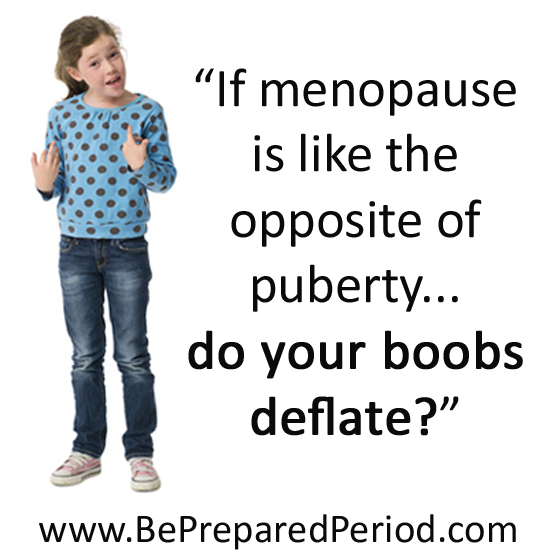 Posted by The Be Prepared Period Team
Wednesday, January 30th, 2013
This post has No Comments
---
Owning Your Beautiful Body (at Menopause) for the Sake of Your Daughter (at Puberty)
By Jessica Drummond, MPT, CCN, CHC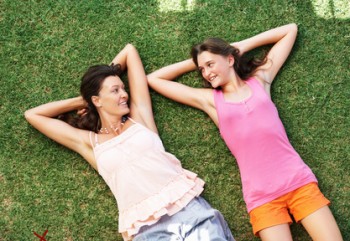 Isn't it funny that God designed moms to hit menopause just as their daughters are hitting puberty.  (Well, actually, I guess we've designed it that way, since now many of us are having our children well into our perimenopausal years.  But, wait… My grandmother had her last child at 40.  So, I don't know who to blame!)
Think about that for a moment.
Just when you're feeling even worse about your body, the perimenopausal belly fat, the sagging well-past-breastfeeding breasts, the bits of gray hair, the middle aged acne, all combined with the fatigue that comes from raising tweens and burning the candle at both ends for the last 3 decades, it's your job to combat 6000 negative media messages everyday about the unattainable perfect female body!  Ugh. Read the rest of this entry »
Posted by The Be Prepared Period Team
Tuesday, January 8th, 2013
This post has 1 Comment
---
Puberty and Your Special Needs Daughter
By Gina Badalaty


6 Keys to Help You Teach Your Special Needs Daughter about Puberty
One of the more challenging aspects of raising a daughter with special needs is teaching her about puberty.  This year my 9 year old, Amelia, started showing the earliest signs of puberty.  I panicked, but after I calmed down, I came up with a practical plan on how I would teach her.  In developing my plan, I discovered six keys that can help you take the right approach to teaching your daughter about puberty.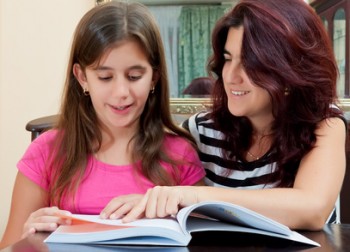 1.  Communication.
If your child has a speech disability, or is unable to understand you, you must find another way to communicate what puberty is all about.  This can entail a variety of methods.  A good book can help, or you may need to find a picture exchange system (PECS) or social story based specifically on puberty.  If not, look around for good images and create your own PECS or social story tailored to your child's needs.  We use the American Girl book, "The Care and Keeping of You," which Amelia likes very much.  (Note: it is very graphic.)
2.  Perspective.
Every child is different, so in order to select the approach that works best for your child, you must first view everything through her perspective.  I thought about Amelia's communication skills and deficits, her understanding of her body and science, and her relationships with other people, and created a relaxed and informative plan that I thought would speak directly to her, through books, pictures, and demonstration but without a rigid learning structure since this suits her personality best.
Posted by The Be Prepared Period Team
Tuesday, October 30th, 2012
This post has 1 Comment
---
Why Haven't I Started My Period Yet and Hello…Where are My Boobs?
It can be difficult to feel like you are one of the only girls in your grade that hasn't started her period or hasn't seemed to 'blossom' yet.  If you are what might be called a 'late bloomer' (I know, awkward term) it is normal to feel anxiety and worry that you are different, or that something is wrong with you!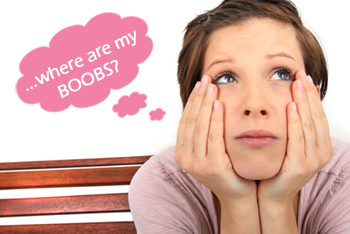 But the best thing to do is put your worries aside – and realize that when it comes to puberty, there is no such thing as 'normal!'  (Heck, you might even consider yourself lucky.)
Some girls start menstruating at the age of 8 or 9.  Others may not start their periods until they are 15 or even 16.  Some factors that can delay your first period are EXTREME exercise (meaning several times a week for several hours per day) and a diet that is lacking in vitamins and minerals.
If you are eager to start, you should know that most pediatricians will not likely do anything to help you until you are over 16. As long as you have started to develop pubic hair by the age of 13-14, you really should not stress yourself out with worry. Read the rest of this entry »
Posted by The Be Prepared Period Team
Wednesday, September 12th, 2012
This post has No Comments
---
Preparing Your Daughter: It's a Choice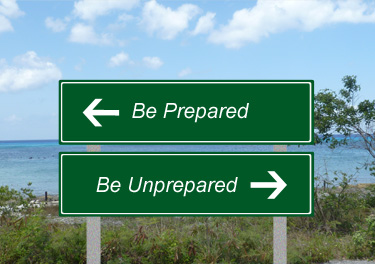 I was 13 when I got my period and although it was 33 years ago, what I remember most about that day is how lonely I felt. Menstruation wasn't something discussed among friends, much less at home. I was prepared in the literal sense. I had a box of pads under my bathroom sink and I knew I would bleed and what to do about it. Still, I wasn't prepared emotionally. Facts weren't very helpful when I felt like nobody understood and nobody wanted to talk about it.
When I found myself the mother of not one, but three daughters, I knew it would be up to me to make sure they were not only physically prepared for whatever life threw at them, but emotionally prepared as well.  From the time they were born, I made it a point to talk to my girls. We talk about everything… from school to friends to puberty and even those darn boys. I always knew that talking and being open and honest with them was going to be the answer to raising smart, secure and self-confident children. I never wanted my kids to feel they couldn't come to me and ask questions, or talk, or tell me how they were feeling. Read the rest of this entry »
Posted by The Be Prepared Period Team
Thursday, June 7th, 2012
This post has 1 Comment
---
Swimming During My Period?!?!
Swimsuit Season
Swimsuit season has officially arrived!  If your summer is anything like mine, you will be in the water a lot this summer. And, more than once you may find the fun in the water is planned on a day when you are menstruating.
Stressful Situations
When it comes to swimming or even just being in a swimsuit during your period, many girls and women worry.  We worry about so many different things, including: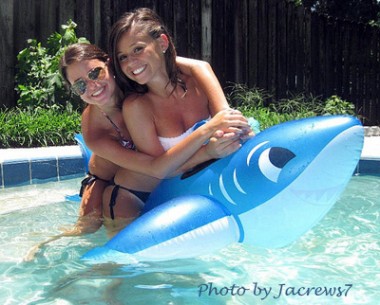 - How can I make sure no one knows I am menstruating?
- What swimsuit should I wear so I don't feel so awkward?
- What if I have a wardrobe malfunction and people see my tampon string?
- Where is the closest bathroom and how can I escape there without being noticed?
- Who do I really want to share this part of my life with?
If you are a tween or a teen this is especially challenging.  Everyone has expectations of what you should be doing.  People know you love the water, but you may not want everyone to know when you are on your period (much less what feminine hygiene products you use or what products you are not comfy even trying).
Common Myths
It is amazing that even though half the world's population menstruates for part of their lives, many girls and women don't really know what is or isn't a myth.  For example:
- Myth #1: You should avoid swimming during your period (or at least skip water activities if your flow is heavy). Read the rest of this entry »
Posted by The Be Prepared Period Team
Wednesday, June 6th, 2012
This post has 1 Comment
---
Is My Daughter Ready for Tampons?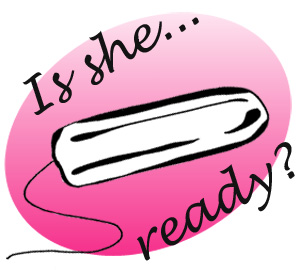 When it comes to feminine hygiene supplies, there are almost as many questions as there are products!  Since your daughter will use approximately 10,000 pads, tampons and/or panty liners in her lifetime, it is worth investing some time to learn more about her options.
The Starting Line
Some girls start menstruating at age 9 while others don't have their first period until age 15.  Whether your daughter starts before most of her friends, along with them, or is one of the last to get her period, the odds are good that she will start with disposable pads (or a mix of disposable pads and panty liners).  Pads are practical, easy to use, and highly effective.
Hurdles
The interest level in trying an internal product varies widely among girls who have recently started menstruating.  Some of the most common reasons for growing more interested include:
- Friends' Recommendations
- Leaking Through Pads
- Summer Outfits & Outings
- Sports & Activities
- Concerns About Odor
- Swimming/Fun Water Activities
- Wanting to be Like ___ (mom, older sister, etc.) Read the rest of this entry »
Posted by The Be Prepared Period Team
Friday, June 1st, 2012
This post has 9 Comments
---
"What is a Period, Mommy?"
Say it again
Last fall I had a conversation about menstruation with my then two-year-old daughter. I didn't want to; I was forced. Some were amused by its content. Some inspired.
Just the other night, the topic of periods came up again. Because I was having mine, and once again my daughter saw the string between my legs.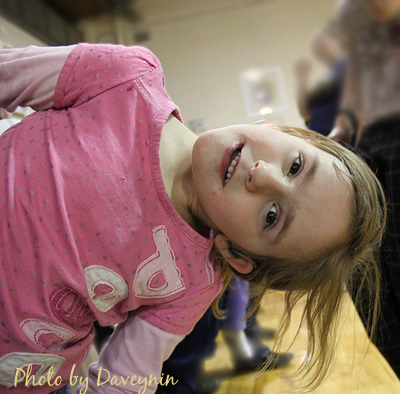 The conversation started off exactly like the first time, but ended up going in a different, more detailed direction…
"Somefeen in your butt, Mommy."
"We had this conversation before, honey. Do you remember? There is nothing in my butt. It's in my vagina, and it's called a tampon."
A look of recognition came across her face, and she nodded as if to say she remembered. And then she was quiet for a moment. I thought I was getting off easy this time. But…
"Why you need it?"
OK, that's a big question. Do I really want to explain to my three year old about bleeding from the vagina once a month? I think not. At her age, she's really not capable of handling that information.
It's best to keep things high level and age appropriate at this point.
"I need it because I am a woman, and I have something called a period once a month."
"I not have a period."
"No, you don't yet. You will when you are a big girl."
"Will it hurt?"
I really hesitated on this one. I don't want to lie to my child. Periods can hurt. I had terribly painful periods most of my life. They were debilitating until I had a uterine ablation after she was born.
But I don't want to scare her, either. Turn a period into something she learns to dread. So I compromised by responding with, "Sometimes it can hurt."
I was trying to think about how I would continue, but her attention span was spent. She was ready to move on. I was not disappointed.
But every time the subject of periods has come up, I've felt unprepared. I really do need to think about how often I want to talk about this with my daughter and what I want to say.
It's good to take advantage of opportunities when they come up. And keep the conversation moving forward. But planning ahead is never a bad idea, either.
We currently have a book about the human body my daughter loves to have us read to her. It includes a section on how babies are made. She enjoys seeing a baby growing in the Mommy's belly.
It does discuss egg and sperm. Perhaps next time this subject comes up I can introduce the concept into the discussion and begin to tie everything together…
By Elizabeth Flora Ross
Elizabeth blogs about her struggles and successes as a writer and a mom at The Writer Revived. She is the author of Cease Fire: A Call to End the War Between Women, which she is currently working to get published. In March 2011 she launched The Mom Pledge, an online campaign to eradicate cyber bullying among moms. You can connect with her on Twitter, Facebook and Google+. 
Looking for more information on periods?
Check out our Info on Periods & Puberty page for helpful information OR stop by our new PeriodTalk forum to get answers to the questions you've been wondering about.

Posted by The Be Prepared Period Team
Friday, May 4th, 2012
This post has 2 Comments
---
Preparing for Puberty & Periods
You don't have to know everything…
Since I work directly with women on a daily basis helping them to understand their fertility cycle, I thought I was very well prepared to support my daughter with her transition into womanhood.  While I feel I did a great job preparing my daughter for the physical changes, there have been times I have struggled with the logistics of supporting her and been surprised by questions I was not prepared to answer.
Feminine hygiene products have really changed since I started my period in 1986.  Suddenly I realized that every month I was making choices about the products I use with a 1986 mentality, which wasn't the most helpful for my 13 year old daughter.  I wasn't prepared to help her determine what products would be ideal given her age, weight, activities, etc.  What would feel most comfortable?  What would work best?   What concerns would she have?
We have both learned a great deal, but I am pretty sure that I have learned more than she has.  I have been privileged to receive support and answers to questions (even ones I never anticipated), especially from You ARE Loved.
With each passing month my daughter is gaining confidence and more fully embracing her cycle.  It has been an amazing journey of discovery and education for both of us.  We look forward to what is ahead.
Traci is the Mom of a 13 year old daughter and 3 sons.  She is passionate about educating people about their fertility, cycles and nutrition (to learn more check out FertileView).
You ARE Loved and Be Prepared Period thank Traci for writing this guest post. She will be one of our parent panelists on March 9 for a very special tweet chat: Puberty and Periods – Guiding Tween & Teen Girls.  More information is available here.
Posted by The Be Prepared Period Team
Wednesday, March 7th, 2012
This post has 12 Comments
---
Wave Goodbye to Leaks
Is anything more stressful than worrying about the possibility of a leak?  How can anyone focus on learning in class, performing on the field, or talking to your friends when a leak could happen at any time?
Whether you are getting ready for your first period, have had your period a few times, or have been menstruating for years the following tips will help you wave goodbye to leaks.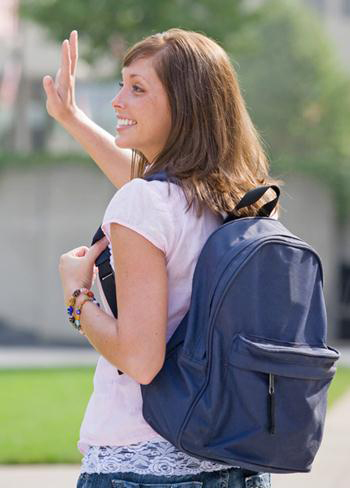 1)   Know Your Flow.  Be extra prepared on your heaviest days then relax once they have passed.
2)   In Your Hands.  Put your supplies in your purse, backpack or whatever you will carry in your hands into the bathroom.  Think about what you will probably need then add one or two more.
3)   Be on Time.  Plan to visit the restroom to change (or at least check) regularly.  Always set the time between breaks to be a little less than you think you need based on that day's flow (and never skip a planned visit).
4)   Get Dark.  Of course you can't see very well when it gets dark outside.  Dark colors do an amazing job of hiding any evidence of leaks.
5)   More is Merrier.  Layers are a fashion statement and so much more.  No one else will ever see if you leak on anything other than your outermost layer of clothing.
6)   Tight is Right.  There is a reason some people talk about "period panties." If you use pads, wearing extra tight or super snug panties keeps the pad in place even when you're in motion. 
Posted by The Be Prepared Period Team
Tuesday, March 6th, 2012
This post has 10 Comments
---
Twitter Stream
Facebook
Do You Like This Site ?
Grab our Button for your Site!
Copyright © 2011 Be Prepared, All rights reserved, Powered by : Glowing Web