Shopping cart
Now in your cart 0 items
Blog
Michelle's Diva Cup Review
I first heard about the Diva Cup a couple of years ago and I immediately judged it. The idea of inserting a bizarre-looking contraption I'd never heard of in my vagina wasn't very appealing to me, especially since using tampons and pads were the mainstream (and what I thought where the only) options for dealing with your period. I quickly dismissed the menstrual cup, thinking only hippie/granola/environmentally-conscious women were using it.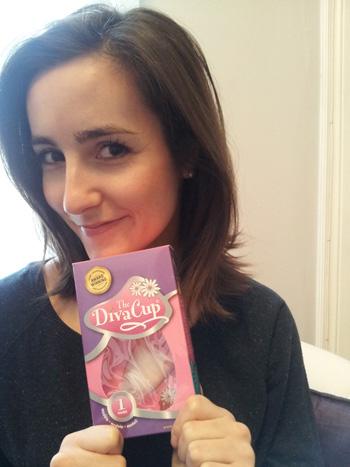 Eight months ago, at 24 years old, I was diagnosed with Thyroid Cancer.  Since then, I've been focusing a lot on my health and embracing a healthier, cleaner, greener lifestyle. I am very conscious of what I put in and on my body, from everyday food to cosmetics which contain chemical ingredients and potential carcinogens. I had been thinking about switching to the menstrual cup because it seemed a more natural way of dealing with my period, but was afraid to do so. I wasn't sure how it worked, how to insert it and if it would hurt. I kept asking my BFF to try it before me to see if it was worth it or not!
Last week I started my period and went to the pharmacy to buy my "period supplies", where I saw the Diva Cup among all the tampons and pads. "Enough is enough" I thought to myself, "time to face the "beast" and get this over with". So I bought a Diva Cup and left my usual supplies behind.
I won't lie I did feel a little nervous before trying my Diva Cup, and had a hard time getting past the idea that I was going to be inserting what seemed like a "big object" in my body. So I buckled up and went for it and this is what I have to say: IT'S A-MA-ZING!!!!!! How could I've gone without it for so long?? I will never ever buy tampons or pads again. It's so comfortable, I don't even feel it. I don't have to change it every couple of hours like a tampon. No spills, even throughout the night! I feel much better knowing that I'm dealing with my period in a safer, more natural way. Buying a box of tampons and pads every month can get expensive – you can easily spend up to $200 a year on them. This won't be the case with my Diva Cup and I'll be saving a lot of money from now on. And yes, it's eco-friendly. Does that make me a granola? Nope. It just makes me a girl dealing with her period the best way she can. So let's spread the word!
Michelle


Posted by The Be Prepared Period Team
Tuesday, November 27th, 2012
This post has No Comments
---
Camping With DivaCup
Camping with a menstrual cup, scary or sensible?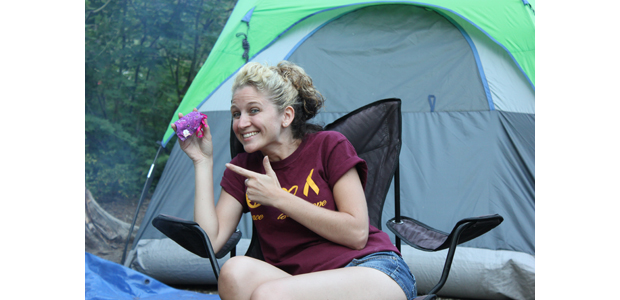 Expecting to start my period the day we were scheduled to leave for our camping trip I was "prepared" and decided to bring my DivaCup with me. I've never enjoyed the inconvenience my period has caused during a camping trip, the extra concern of being somewhere I could change my tampon or the early morning wake up calls from aunt flo. There's nothing like waking up with that startling feeling of needing to rush to the bathroom, to be challenged with crawling out of the sleeping bag, bundling up in warm clothes, climbing out of the tent, to only have to walk who knows how far to the nearest bathroom in fear of a LEAK!
Camping for our family is meant to be a chance to "get away from it all," not a time to worry about more. And this weekend was packed full of fun, camping, fishing, horseback riding, hiking, and swimming. Any one of these activities can present period challenges in normal everyday life without the conveniences of home, never mind all of them in the same day. But of all these activities horseback riding had me the most concerned. Something about straddling a horse, bouncing up and down while trekking through the forest just screamed possible opportunity for a leak. I'm proud to report four people may have fallen off their horses but the DivaCup stayed put, no leaks!
I truly feel this little cup has been put to the test with all these activities, and with limited bathroom access it was wonderful to only have to worry about emptying it every 12 hours! After this weekend it is hard to imagine an event the DivaCup wouldn't be a perfect fit for!
Camping with DivaCup = a Better Period!
Posted by The Be Prepared Period Team
Thursday, July 19th, 2012
This post has 1 Comment
---
Playing It Safe With The Lunette Cup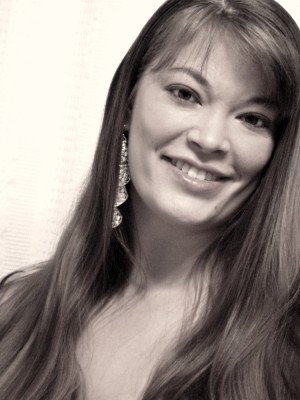 By Heather Schweich
I honestly can't remember a time after I started my period when I wasn't aware on some level of Toxic Shock Syndrome (TSS).
My mom was not a tampon user; they made her nauseated and feel horrible when she tried them in high school/college, so when I started menstruating she got me pads, just like her. Well, lower absorbency, but you get the idea.
The problem was that I was a ballet dancer. #1 Pads = not cool. #2 They would never stay in place. So I asked her to let me get some tampons.
She did, and I'm not sure if it was the box insert, a news story, or word of mouth but TSS was a huge concern for her. I didn't really get the seriousness of it, but I knew enough that I was willing to go along with her guidelines: use natural fiber (cotton) tampons – don't use a higher absorbency than I needed – use pads at night.
Fast forward 10 years. I was still very aware of that warning inside every box of tampons. I still followed all my mom's guidelines. No biggie. The I got married and immediately got pregnant. No worries about TSS for awhile!
We cloth diapered our son and on some online boards or a Facebook group; I don't really remember where I first heard about menstrual cups, but I swore that I'd never get "that crunchy." And I didn't think too much about it.
Fast forward another 2 years to after the birth of my second son. I started looking for even more ways to save money. And I heard for the first time that menstrual cups were not a TSS risk. It got me thinking. And thinking. And thinking.
I worked up the numbers and found out that while I would save money in the long run, it would take about 10 cycles to pay for itself (just what I happened to be spending on disposable products). I was interested, but the upfront cost was just a little steep for me. I also wasn't planning on having that many cycles before I got pregnant again.
Then a friend told me about a sale on the Lunette. I decided to go for it and bought one; then later that week I won one in a giveaway from BePreparedPeriod and YouARELoved. From zero to two in less time than it took to ship! I traded one to another friend for an electronic drum set (she'd missed the sale and had been wanting to try one too) so we both benefited from my good fortune.
My husband and I are currently trying to conceive our third child, so I was hoping to be able to store my Lunette for awhile and try it in a couple years. But that didn't happen last month; on the upside, I actually got to try out the cup and it lived up to everything I had been hoping.
I'll be honest; I wore a panty liner and carried around a disposable tampon that first day. But I never needed them. The Lunette worked perfectly.
There was a bit of a learning curve that first day. And there were three big things that I remember hearing/reading before I used it that I am thankful for.
1. Find a fold that works for you.
Lunette Cup has a great video that shows 9 different folds for insertion. It was great having some different options in mind to try. What works for one person may not work for another! The first time I inserted it I had to try a couple times to get it into a comfortable spot. Later that day, it took about 7 tries. After that I was usually able to get it right on the first or second attempt.
2. Break the suction when you remove it, don't just pull the cup out!
Anyone who has ever breastfed knows what happens when you don't break the "latch." OWW! Same concept here. It took about 3 removals for me to figure out what worked for me and how to push the cup in just enough to break suction and remove it without spilling any fluid. The first time was the worst mess, but I figured it out and things went a lot smoother from there on out.
3. Listen to your body.
You will know when it's in the right location. The first time I put the Lunette in it was too low and I couldn't even urinate with it inserted, it was also slightly painful. After I re-inserted I could still feel the stem which was different, but not painful. I know that many people cut the stem off for that reason, but I didn't find it necessary to do so.
I also discovered that I'm not the best person to wear a cup at night. Some nights it worked well for me (no leaks, which was wonderful!), but on the second night I started having some very odd cramps, very painful, but different from my regular menstrual cramps. When I went to remove the cup I realized that my cervix had dropped inside the cup and was trying to push it out. As soon as the cup was out the cramping stopped.
I'm not sure if I'm just weird, or if that's a fairly common thing; but personally it's just a good thing to know, and listening to my body made that night a lot less painful.
—-
I'm definitely going to get either some Lunette wipes or another type of alcohol wipe to have in case I need to remove/empty it while I'm out of the house. It's slightly inconvenient to have to rinse it between uses, but the wipes do great cleaning and disinfecting the cup while out of the house.
So.
Pros: I love being able to wear it all day long and not worry about leaks. It's better for the environment and my body. It saves money in the long run. It only takes a day or two to learn how to use.
Cons: I can't wear it at night all the time (just my body quirk). It takes a day or two to learn how to use.
Overall, I am very impressed and pleased with the cup. It is very comfortable and I can't get over the fact that I had no leaks whatsoever while I was using it. Currently I only have boys, but if I ever get my girl I would definitely give her this as an option.
Thanks, Be Prepared Period & You ARE Loved for an awesome giveaway and thanks, Lunette for such a great product!
Heather Schweich is a wife, mother of 2 wonderfully rambunctious boys, a passable cook, former ballet dancer, slightly crispy mom. She loves blogging it all at www.2SleepingBabies.com, while laughing and just trying to make it through the day until both babies are, actually, sleeping.
Posted by The Be Prepared Period Team
Tuesday, June 19th, 2012
This post has 4 Comments
---
13 Reasons Women Want to Try Lunette
Last week we gave away 5 Lunette Cups with our friends at You ARE Loved.org. In conjunction with the giveaway we asked women, "What is your #1 reason for wanting to try Lunette?" These are a few of their answers:
1. "I have already tried the Lunette, and it is amazing!! I would LOVE the opportunity to win one to give to my best friend for Mother's Day!"
2. "I want to use Lunette because I want to use a reusable menstrual cup instead of pads and tampons."
3. "I want to explore ALL my options now that I am having green periods"
4. "I want to try Lunette because I am interested in seeing if it's a better fit for me (in terms of leaks) than the Diva Cup I've been using since the fall of 2010. Plus, they're available in pretty colors!"
5. "I've heard great things about the lunette and I'd love to give it a try because I hate disposable products" Read the rest of this entry »
Posted by The Be Prepared Period Team
Tuesday, April 17th, 2012
This post has 2 Comments
---
My Lunapads Story/Review
"This story/review came to us at such a great time. As we approach Earth Day, we'd love to hear what challenges you may take on to become more eco-friendly. Will trying an organic or reusable menstrual product make the list?" – The Be Prepared Period Team
My LunaPads story actually started with a challenge a friend gave me around Easter 2011.  She told me to go garbage free (or only be allowed to use 1 bag of garbage from then until Christmas Eve.  I was doing great until that time of the month came about, I got out my Always pads and said "Oh crap…um what do I do with 8 months of pads if I can't use garbage?"  So I began going online and looking for options. I found LunaPads.  I liked the idea that they had the replaceable center.  I ordered 6 pad centers and 1 of the pad. I got the cutest design ever, some flowers that looked like the 60s! (my favorite era)  I excused myself for that week of garbage since they hadn't arrived yet, and threw out the bag. (with actual guilt!) When my products arrived, I was so excited, even though I didn't have my period I wore them for a week! I just wanted to see how they were. Read the rest of this entry »
Posted by The Be Prepared Period Team
Thursday, April 12th, 2012
This post has 1 Comment
---
Moldy Tampons
I bet when you think about the words Feminine Hygiene you don't think "Moldy Tampons."
Well, neither did Danielle over at Parr For The Course. But to her surprise, that is exactly what she found when opening a new box of Kotex Tampons!! We're not talking about an "emergency tampon" that has been buried in the bottom of your purse for who knows how long, this came "straight out of the box, in it's sealed little packaging."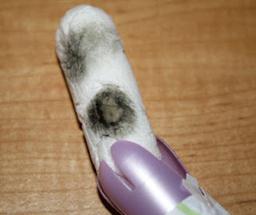 As a public service announcement we thought we should share this story. You ought to be aware of the things you may be potentially putting in your body. Not only are you at risk of TSS with conventional tampons, but now you may need to be on the look out for MOLD! (Judging by Kotex's comments this not an isolated incident.) So go ahead and pop over to Danielle's blog to read her story along with Kotex's reply.
As women, we have many "feminine hygiene" options. More options than most realize. We have the traditional products we are all familiar with "pads & tampons." But today, we are fortunate to have additional options like organic/natural tampons and pads (products free of plastic and bleach) from great companies like Natracare & Maxim Hygiene, as well as menstrual cups like Softcup, DivaCup & Lunette and cloth pads like Lunapads. There are lots of options, both disposable and reusable.
We challenge you to look into healthier products not only for your body, but also the environment. So before you say, "ewww…menstrual cups" or "ewww…cloth pads" or "ewww…tampons without applicators," just think about how gross it would be to accidentally insert a moldy tampon! EWWW!!!
We'd love to hear your initial response to this news. Please comment below and tell us how this information may or may not change your thoughts on feminine hygiene.
Posted by The Be Prepared Period Team
Wednesday, March 28th, 2012
This post has 31 Comments
---
DivaCup Review
By Jennifer, from Indiana (Age 32, 2 children)
I used the Diva Cup for the first time a week ago and was very pleased. There was a learning curve in getting it placed properly and I had to trim the stem.  If it was not positioned just right, I felt quite a bit of rectal pressure similar to the pressure I felt in the latter part of my pregnancy. Also, a few times it seemed to work its way down a little where I could feel it. Some adjusting remedied both of those. I did feel this after wearing it overnight but it was time to take out anyway. I am not sure if this is a common issue with DC users. Of course, it may just be the shape of my body. Since having my first child, tampons are extremely uncomfortable with similar problems.
I still have to get used to the emptying and cleaning. But my flow is light enough that I only need to empty 2x per day, even on my heaviest day. One of these times can be in the shower. So this is a plus!
Now for the good….. I wore the DC exclusively during my cycle and other than some positioning, I had no problems. I could not even feel it most of the time and had ZERO leaks. I even exercised while wearing it. Another plus, NO ODOR like with chemical filled tampons and pads. (Yes, I'm that weird girl who smelled, just to know!)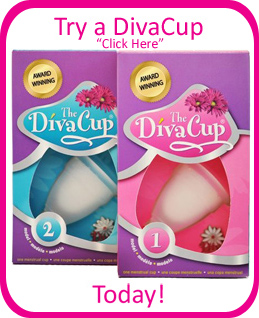 PROS: No leaks
No odor
Wear for 12 hours
Comfortable
No chemicals
Never invest in disposables again
Reusable
Cost effective
No gross, uncomfortable string
CONS: It is just different, so there was hesitancy
Learning curve for positioning
Sink or bottle of water close by for emptying & cleaning
So, overall, overall the pros WAY outweigh the cons. I am very pleased and will be using the Diva Cup exclusively from now on. And I will be telling people about it!
Want to try one out for yourself? "Click Here" to purchase your very own DivaCup at below retail prices.
Posted by The Be Prepared Period Team
Friday, March 16th, 2012
This post has 2 Comments
---
Twitter Stream
Facebook
Do You Like This Site ?
Grab our Button for your Site!
Copyright © 2011 Be Prepared, All rights reserved, Powered by : Glowing Web