Shopping cart
Now in your cart 0 items
Blog
Cramp Care Heat Pack Giveaway!
We are so excited to have pelvic pain specialist, Jessica Drummond with The Integrative Pelvic Health Institute joining us for our next tweet chat (11am PST / 2pm ET April 12, 2013) we are celebrating with another giveaway!! She'll be explaining what pelvic pain is, and what can be done about it in this informative and fun chat.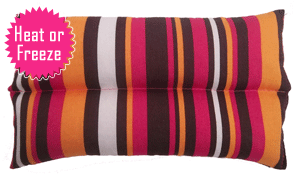 To promote the tweet chat and encourage participation we are giving away our new Cramp Care Heat Pack.
The Cramp Care Heat Pack offers a convenient and effective way to relieve pelvic pain and menstrual cramps. It's perfect size of 5×8 inches fits comfortably on the lower abdominal or back area and can be used either hot or cold.
The Cramp Care Heat Pack is made with an All Natural filling that can be heated/froze to create a heat or cold pack.
As a Cold Pack it works great for alleviating headaches.
With it's convenient size and design, you will enjoy using this natural, eco-friendly, cramp reliever over and over again.
For more info or to purchase your own today click the link below.

*With this giveaway being designed to promote our upcoming TweetChat, Friday, April 12, 2013 the winner must be present to win. (Present, being defined by posting at least one #PeriodTalk tweet between 1:40 and 2:40pm Eastern on April 12, 2013.)
Want to stay up-to-date on our giveaway opportunities or upcoming tweet chats? Sign up for our giveaway notifications and be notified the next time we are giving away more FREE stuff! Receive Tweet Chat announcements/reminders by signing up, here.
"Click Here" for more details about the chat. To Enter the giveaway: Read the rest of this entry »
Posted by The Be Prepared Period Team
Monday, April 8th, 2013
This post has 1 Comment
---
Earth Day Event: 60 Minutes to a "Green" Period (Free Webinar)
Join us and Women's Health Coach, Nicole Jardim of The Healthy Elements, for this exclusive Earth Day celebration!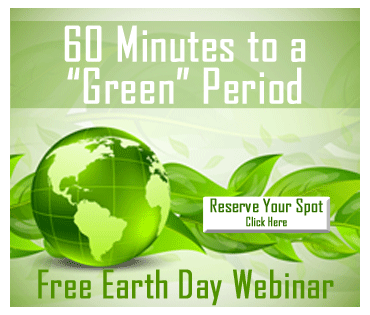 What is Earth Day? Earth Day is an annual day on which events (like this one) are held worldwide to demonstrate support for environmental protection.
Why should you be concerned with environmental protection? To name a few there is: our children's future, increased waste/pollution, and global warming.
But one of the best reasons is the direct effect on our health. Our bodies come into contact with chemicals and toxins daily, but do you know how they are affecting:
OUR lives?
OUR environment?
OUR periods?
Well, that's exactly what will be covered in this free 60 Minutes to a "Green" Period Webinar on April 22nd.
You're going to learn:
How chemicals in the environment (food & beauty products) are affecting women's health
The harmful effects of hormones in our food
How to reduce chemical exposure

You will also learn:
The effects traditional menstrual products are having on the environment and your health
Solutions to many menstrual product complaints such as: irritation, vaginal dryness, TSS concerns
Our favorite eco-friendly, body-friendly, period-friendly products that will greatly improve your "monthly" experience
And more!!
You DO NOT want to miss this one! Share this with your girlfriends too! We'll be partying on Monday April 22nd, 2013 at 12am PST / 3pm EST!
Even if you can't make it, sign up anyway and we'll send you the recording the next day!!

Posted by The Be Prepared Period Team
Tuesday, April 2nd, 2013
This post has No Comments
---
Endometriosis Awareness Month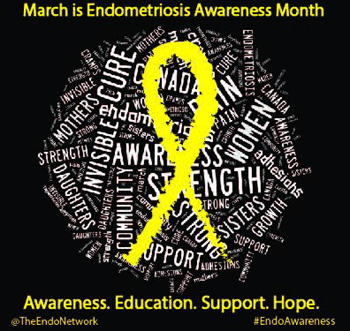 "There I was, at 2 am, awakened again by a cold sweat, a sharp pain in my right side and the overwhelming nausea that caused me to keep my jaw clamped shut in the hopes of avoiding an episode of vomiting. I pushed back the covers, slid my feet to the edge and sank to the floor. Quick, what are my options? Crawl to the bathroom in the hopes of retrieving my hot water bottle and lying on the cold tile floor knowing that whatever happens at least I won't make a mess, or quietly open my bedside table drawer for my collection of pain killers and aromatic essential oils to keep me from passing out? Will I wake anyone? Will either of the options help? Is the pain escalating? Is this "episode" going to make the ER necessary? No, not the ER–what is the point of losing consciousness on the toilet in the ER bathroom, in a puddle of my own sweat, and then being accused of drug seeking? I slump over, right there on the floor beside my bed and wait for the current wave of contractions to pass. Breathe. I can get through this. I'm a rock star."
How often at work or at school do we look at someone and wonder how they've spent their night? If we do, how often do we think, "Hmm, they must have been in excruciating pain." While some with endometriosis are without symptoms, the majority have spent many days and nights in some semblance of the above state. It might surprise the average person to know what so many intelligent, witty, creative, vibrant, hard-working people are reduced to when no one is looking. It becomes so important to appear "normal" to someone suffering so constantly in this way. This desire to keep up appearances is, in itself, isolating and exhausting. Read the rest of this entry »
Posted by The Be Prepared Period Team
Friday, March 29th, 2013
This post has No Comments
---
Lucky With Lunette & Lunapads

Searching for your four leaf clover this St. Patty's day? Look no further!
If you've ever wished you could be one of the "lucky" ones, that didn't have to deal with period problems like uncontrollable heavy flow or allergic reactions or irritation, today is your LUCKY day! With the introduction of products like Lunette & Lunapads these issues can be easily remedied.

Check out the reasons we like Lunette…


Sharing some of the same great benefits as Lunette, PLUS some of their own, Lunapads are…



But as luck has it, you can enjoy all these amazing benefits PLUS an extra 10% off!!!
Just enter the promo code #Lucky at check out when you purchase Lunette or Lunapads at BePreparedPeriod.com. (#Lucky discount expires 3/18/13)
Click the shamrock of your choice to start saving!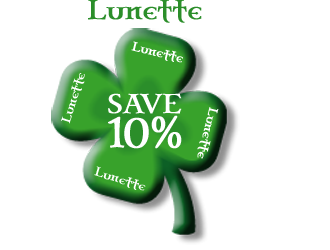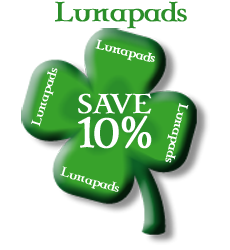 Posted by The Be Prepared Period Team
Tuesday, March 12th, 2013
This post has No Comments
---
Endometriosis: Robyn's Story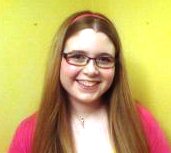 My story is one of endo and education, two major conflicting parts of my life.
My periods started at the age of 13 and it soon became obvious that mine were different to everyone else's. My school days were spent running to the bathroom to change pads, running to my locker to take painkillers and running to the school nurse for heat pads. I started going to the doctor about my heavy, painful periods at 14 and was told it was all normal. To help regulate the bleeding, I was put on the pill. The first one didn't work for me at all as I became clinically depressed with all the hormones. Thankfully, the doctor realized quickly and changed the pill. The pain remained but at least I got through the rest of my school days with some control over when I would have my 10 day long period (scheduled to not appear during important exams). The doctor maintained that the pain was normal and I learnt to try to hide it from my friends since they all thought I was making it up for attention.
When I turned 18, I asked to be referred to gynecology. During my first year at university I had my first laparoscopy. It showed I had endometriosis on my left ovary. The surgeon lasered it off and inserted the Mirena coil. For the next year or so, I was both period and pain free for the first time. It was amazing! I loved life, had a cool, gorgeous boyfriend, had more of a social life than ever, worked two jobs and came top of my year in uni. Read the rest of this entry »
Posted by The Be Prepared Period Team
Saturday, March 2nd, 2013
This post has No Comments
---
Almost Wordless Wednesday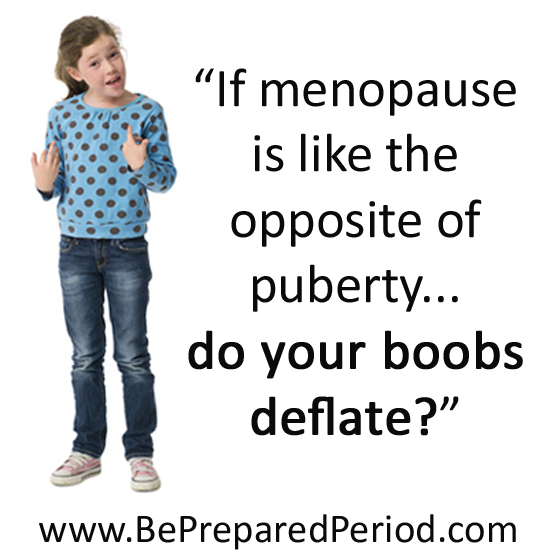 Posted by The Be Prepared Period Team
Wednesday, January 30th, 2013
This post has No Comments
---
Don't Worry Dad, It's Just PMS –
Are you screaming inside, "PLEASE…SOMEONE…help me with my teenager!" Do you ever get the feeling that your daughter hates you?  Or that once a month, you have no idea how to deal with her.  One minute the two of you are laughing and the next – your kindhearted jab about her clothes sends her reeling to her room in tears.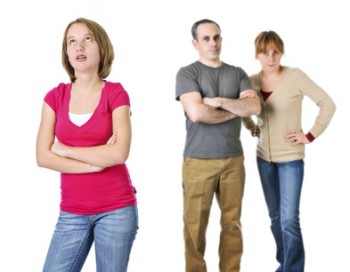 If your daughter's mood swings can sometimes give you whiplash, you might be experiencing what is called PMS: pre-menstrual syndrome.  And if you think its bad for you – you only know the half of how bad it is for your daughter.
Truth is, that PMS is real.
Due to hormonal surges before a female gets her period, she can suffer from a calamity of symptoms.  Often times, PMS comes in the form of physical symptoms such as headaches, fatigue, bloatedness, sore breasts, muscle aches, and food cravings.  And even more often, PMS serves up some pretty severe emotional reactions which can range from sadness and anxiety to anger, frustration, and difficulty focusing.
So not only is your teen craving those chocolate cookies, Doritos and soda, but she also cannot fit into her jeans (which is a deadly combination to a teen) – AND her emotions are on a roller coaster.  So really, it's nothing you said.  It's just that her hormones are a little off balance and she doesn't feel quite like herself. Read the rest of this entry »
Posted by The Be Prepared Period Team
Tuesday, January 22nd, 2013
This post has No Comments
---
Private Fix Your Period Coaching Session Giveaway!
We are celebrating the month of "love" on February 8 with the tweet chat topic, Learning to Love Yourself & Your Period.
Joining us as special guests will be women's holistic health coach and fix your period specialist Nicole Jardim and body confidence coach Alison Leipzig. We couldn't ask for two more lovely, better suited ladies to guide us to a deeper inner love.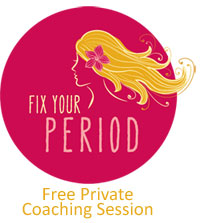 To help promote the chat and encourage participation Nicole has generously given us a single, private Fix Your Period coaching session (a value of $125) to give away to one lucky participant. The Fix Your Period Program specializes in helping women with a variety of menstrual concerns, including:
Irregular periods
Painful periods
PMS/PMDD
PCOS and more

What can you expect in a Fix Your Period Private Single Session?
The Fix Your Period Private Single Sessions are 75-minute coaching sessions designed for busy women who can't commit to longer programs. This is perfect for women who are exhausted by the physical and emotional discomfort caused by out-of-control ovaries and ready to start taking steps to put a stop to it. Read the rest of this entry »
Posted by The Be Prepared Period Team
Saturday, January 12th, 2013
This post has No Comments
---
Owning Your Beautiful Body (at Menopause) for the Sake of Your Daughter (at Puberty)
By Jessica Drummond, MPT, CCN, CHC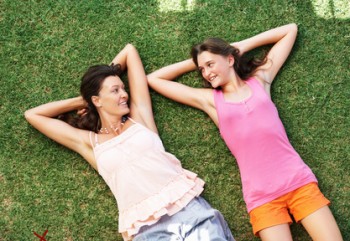 Isn't it funny that God designed moms to hit menopause just as their daughters are hitting puberty.  (Well, actually, I guess we've designed it that way, since now many of us are having our children well into our perimenopausal years.  But, wait… My grandmother had her last child at 40.  So, I don't know who to blame!)
Think about that for a moment.
Just when you're feeling even worse about your body, the perimenopausal belly fat, the sagging well-past-breastfeeding breasts, the bits of gray hair, the middle aged acne, all combined with the fatigue that comes from raising tweens and burning the candle at both ends for the last 3 decades, it's your job to combat 6000 negative media messages everyday about the unattainable perfect female body!  Ugh. Read the rest of this entry »
Posted by The Be Prepared Period Team
Tuesday, January 8th, 2013
This post has 1 Comment
---
Hormonal Household – Puberty and Menopause Colliding
The similarities between puberty and menopause are vast. Think about it. Teens who are reaching puberty deal with acne, fluctuating hormones, body shape changes, irregular menses, growing pains and fatigue. Similarly, women going through peri-menopause or menopause are sometimes afflicted with mood swings, joint aches, the inability to concentrate, skin eruptions and mind-numbing exhaustion.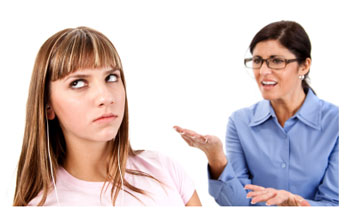 As women wait longer to have children, their menopause is more often coinciding with the onset of puberty in their children. The question, then becomes who just slammed the door and began sobbing? was it mother or daughter?
Coinciding hormonal transitions can result in tiresome bickering and cause extra strain on the entire family. While it's difficult to achieve complete serenity in a house where hormones are colliding, there are measures that can be taken by both mother and daughter to ease tension. The following are a good place to start:
Communication: Communication can break down if you let it. Talking about ways to be respectful to each other can really help you get to know each other's likes, dislikes and boundaries. Remember, no one benefits from a lack of communication.
Self-Awareness: Take the time to reflect on your emotions, reactions and behaviors. What are your triggers and how do you react to them? Are you overwhelmed by negative thoughts? Do you fly off the handle far too easily? It can be helpful to write down your feelings in a journal to achieve some clarity and feel empathy. Remember, everyone is dealing with their own personal challenges. Keeping that in mind can be quite liberating. Read the rest of this entry »
Posted by The Be Prepared Period Team
Thursday, December 27th, 2012
This post has No Comments
---
Twitter Stream
Facebook
Do You Like This Site ?
Grab our Button for your Site!
Copyright © 2011 Be Prepared, All rights reserved, Powered by : Glowing Web